Swimmer Registration for the 2022 season is closed
---
---
Timeline
January 10, 2022: Applications for 20 Bridges, 40 Bridges, and 8 Bridges solo marathon events open.
January 31, 2022: First round of dates for 20 Bridges, 40 Bridges, and 8 Bridges solo marathon events are assigned.
February 14, 2022: Deposit due (USD $500).*
April 15, 2022: Full entry fees due.
May 1, 2022: Crew registration deadline.
*The planning process imposes considerable expense to NYOW. Therefore, we are unable to issue refunds of a $500 deposit due to cancellation for any reason.
---
Dates
Swim Window 1: Tuesday June 14 to Friday June 17
Swim Window 2: Thursday July 14 to Monday July 18
Swim Window 3: Friday August 12 to Tuesday August 16
Swim Window 4: Sunday August 28 to Thursday September 1
Swim Window 5: Friday September 9 to Tuesday September 13
Swim Window 6: Friday October 7 to Wednesday October 12
---
Course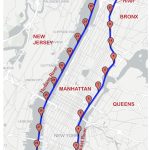 20 Bridges is a 28.5-mile (48.5-kilometer) swim around Manhattan Island traditionally completed in a counter-clockwise direction. It's a full loop, with an in-water start and finish. Regardless of which side you breath on, you'll have interesting scenery the whole time! This includes many bridges, of course, which swimmers often choose to backstroke underneath so as to best enjoy the view (see list below). Other course highlights include famed skyscrapers such as the Empire State Building and the Freedom Tower, sites where world leaders come together such as the United Nations, natural areas like Randall's Island and Inwood Hill Park, and the many piers, neighborhoods, and types of transportation that keep New York humming.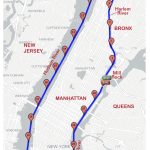 The swim travels through three "rivers" that are actually all tidal straits or estuaries; no freshwater here. The East River, connecting New York Harbor to Long Island Sound, has some ripping-fast tides that will have you shooting under the iconic Brooklyn Bridge and other spans as you pass the boroughs of Brooklyn and Queens. The Harlem River, connecting the East River to the Hudson, is quite mellow by comparison, with relatively calm waters and a slower current. Though it's just 8 miles long, the Harlem River is crossed by 15 bridges, most of them between Manhattan and the Bronx! Then, of course, is the mighty Hudson, separating Manhattan from the state of New Jersey. The only bridge during this stretch is the magnificent George Washington Bridge, with the Little Red Lighthouse tucked at its base. The Hudson can get quite choppy in the afternoon due to all the boat action, especially if there is wind coming up from the Harbor.
NYOW runs the 20 Bridges swim from two different start locations, depending on tides and daylight hours. These locations are Pier A, Battery Park, in Lower Manhattan, and Mill Rock on the Upper East Side. Click on the relevant map for mile markers. Regardless of where the swim starts, boat loading for all participants takes place in Lower Manhattan on the West Side. Swimmers and volunteers may wish to keep this in mind if booking accommodations.
The swim around Manhattan is part of the famed Triple Crown of Open Water Swimming, together with the English Channel (between England and France) and Catalina Channel (in California). Though considerably longer in distance that those other two swims, 20 Bridges generally takes less time when scheduled with advantageous tidal currents, as is NYOW's practice.
The 20 Bridges around Manhattan Island include (in order from Pier A start):
East River (date built/length):
Brooklyn Bridge (1883/1,825 meters)
Manhattan Bridge (1909/2,089 meters)
Williamsburg Bridge (1903/2,227.48 meters)
Ed Koch Queensboro Bridge (1909/1,135 meters)
Harlem River (date built/length):
Wards Island Bridge (1951/285.6 meters)
RFK Triborough Bridge (1936/230 meters)
Willis Avenue Bridge (1901/979 meters)
Third Avenue Bridge (1898/853.44 meters)
Park Avenue Bridge (1954/100 meters)
Madison Avenue Bridge (1910/577 meters)
145th Street Bridge (1905/489 meters)
Macombs Dam Bridge (1895/774 meters)
High Bridge (1848/600 meters)
Alexander Hamilton Bridge (1963/724 meters)
Washington Bridge (1888/723.9 meters)
University Heights Bridge (1908/82 meters)
Broadway Bridge (1962/170.08 meters)
Henry Hudson Bridge (1936/673 meters)
Spuyten Duyvil Bridge (1899/186 meters)
Hudson River (date built/length):
George Washington Bridge (1931/1,450.85 meters)
---
Pricing
The cost for 20 Bridges 2022 is $4600 per solo; $3600 for 25 years-old and under; $2800 per swimmer (maximum 2 swimmers) tandem. For the 20 Bridges Reverse (i.e., clockwise), the price is higher due to the swim taking significantly longer: $5,200 per solo, $3,550 per swimmer (maximum 2 swimmers) tandem.
Entry fees include a designated support boat, kayak/kayaker, observer, and GPS tracking. Swimmers are requested to bring one or two (max.) crew persons older than 16 years to support them from their escort boat. Operation expenses have increased considerably this season. This is reflected by the higher entry fees.
---
Withdrawal Policy:
* Withdrawal before April 15: swimmer gets a full refund minus a $500 processing fee.
* Withdrawal after April 15: If their swim spot can be filled, swimmer will be refunded entire fee minus $750. However, if their swim spot cannot be filled the swimmer will not be refunded.
* Withdrawal 14 days prior to event day: No refunds
---
Fundraising Policy:
You are welcome to raise funds for a cause when you swim 20 Bridges as long as you abide by the following guidelines.
* The organization you are raising funds for must be a registered charity or not-for-profit organization.
* This organization can not represent a religious or political cause.
* All proceeds must go to the charity you are fundraising for. You can not fund your swim through your fundraising efforts.
---
20 Bridges Selection Criteria
Entries are no longer ranked by their timestamp, so swimmers should take their time to make a strong application. Instead, we will be putting an emphasis on swimmer resume. Criteria will include:
Completed recent and less recent marathon swims

Field diversity for each date (age, gender, nationality)

Swimmer schedule (EC, CC bookings)

Participation as a NYOW volunteer

Preferred swim dates

Cold water experience (For 20 Bridges-1 on June 1)
---
What can I prepare in advance for the application form?
*  Emergency contact name & relationship:
*  Emergency contact phone number:
*  Medical conditions
*  List your marathon swimming experience over the past three years.
*  List any other marathon swimming experience.
(Do not included relays, wetsuited swims etc in these two fields)
*  List any other athletic activities you would like us to consider in your application.
*  List your pace for one hour of swimming hard in a pool.
*  List the distance you swim per week during peak marathon training.
*  Water temperatures in October will be as low as 60 ̊F. To be considered for this date list your cold water experience.
*  Include a one to three paragraph biography about yourself including your marathon swimming experiences.
*  Provide your feeding plan for a marathon swim.
*  Name of charity you are fundraising for.
---
Like our Facebook page and check our website for updates from time to time.
---