September 8, 2019




8:15 AM - 1:30 PM
Distance: 10.5 km/ 6.5 mi
Finish Location: La Marina, 348 Dyckman St Manhattan, NY 15034 (on the Hudson).
Check-in Time:  8:15 AM
Splash Time: 9:30 AM
Time Limit: 2.5 hours
Registration: Registration opens on March 1, 2019.There will be NO race day registration.
Regular Entry Fee | Sign up by: $85 | pay by 8 AM Sunday, August 30
Late Entry Fee | Sign up by: $125 | pay by 6 PM Thursday, September 10
25 years and Under Regular Entry Fee | Sign up by: $65 | pay by 8 AM Sunday, August 30
25 years and Under Late Entry Fee | Sign up by: $95 | pay by 6 PM Thursday, September 10
Maximum Entrants: 200
About: Come swim with us in the mighty Hudson for the Spuyten Duyvil 10K!  Starting at Yonkers and finishing in Manhattan, the current assisted route takes swimmers through tumultuous and storied Spuyten Duyvil, where the Harlem River meets the Hudson.  It offers scenic views of Yonkers, Riverdale, Spuyten Duyval Bridge, and the George Washington Bridge.
The swim start, at JFK Marina in Yonkers, is easily accessible via Metro-North's Glenwood Station or by car, with parking available at the marina.  A shuttle bus will transport people to the start that want to park near the finish.  The race finishes at La Marina, a restaurant in northern Manhattan with stunning views of the GW bridge.
The name Spuyten Duyvil or "spite of the devil" originates from 17th Century Dutch settlers and either refers to a messenger who lost his life trying to swim the turbulent waters of Spuyten Duyvil Creek, or a gushing fountain of fresh water called the Devil's Spout or Spitting Devil.
Course Description: Swimmers enter the water from the kayak dock at the north end of JFK marina in groups of 10 to 60. The start will take place in the water in waves that are twenty minutes apart. Swimmers will head west for a short distance, then make a turn around a buoy and head south swimming parallel to the eastern shore of the Hudson River for 10 km. At La Marina, swimmers make a left turn around a final buoy and exit the water via a boat ramp. The current will assist swimmers at approximately 1-mile per hour. Swimmers may be re-positioned on the course for safety reasons. Swim angels are available.
Course Map:
Download PDF File of Course Map: SD10KMap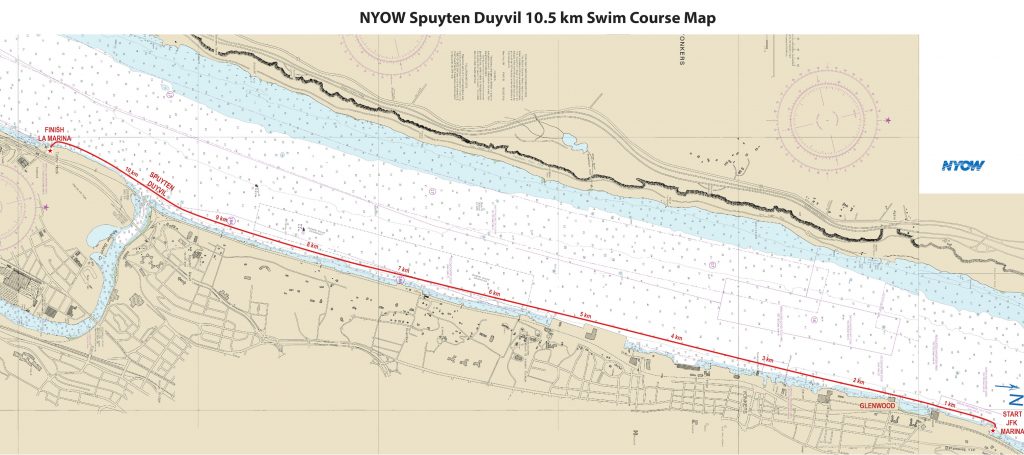 Shuttle Bus Departure from La Marina to JFK Marina (ONLY FOR PEOPLE DRIVING): 6:00 AM
[Sign-up for the shuttle at this link: https://tinyurl.com/ycfv5ewu]
Water Temperature: Between 72˚F and 80˚F.
Categories: Traditional Attire, Wetsuit and Untimed/Non-competitive.
Awards: Awards will be offered to the top placers in each category.
Bag check: A small swimmer bag can be checked and will be transported to the finish at La Marina.
Goodie Bag: A commemorative event shirt, hat, and bag will be given to all entrants.
Refreshments: Pre- and post-race drinks and light refreshments will be available. The presentation of awards will take place at La Marina Restaurant where food and beverages are available for purchase.
Safety: Lifeguards, jet skis, and kayaks will monitor entire course. A safety boat (in conjunction with Harbor Police, Fire Dept. and Coast Guard) will keep boat traffic away. EMT personnel will be on-site. In case of inclement weather or dangerous conditions, the race director may modify or close the course and/or prevent swimmers from completing the swim. Each swimmer will be given a highly visible numbered swim cap that must be worn as the top cap during the entire swim. All swimmers will be body-marked with a race number during check-in.
Swim wear: Swimwear shall be made of textile material. For men, the swim suit shall not extend above the navel or below the knee. For women, the swim suit shall not cover the neck, extend past the shoulders, nor extend below the knees.
Wetsuits: Wetsuits are permitted and will be timed in a separate "wetsuit" category. Technical suits will be grouped with the wetsuit category.
Age Limit: Swimmers must be 16 years old or older. For exceptions please contact the race directors.
Getting there: Travel to JFK Marina and Park via car or Metro-North railroad (to the Glenwood station). Parking is available at the marina.
Shuttle Bus:  For swimmers driving to the event from out of the city that want to leave their car near the finish, a shuttle bus will transport you from La Marina to JFK Marina in time for swimmer check-in.
Questions: Direct inquiries to info@nyopenwater.org

Final Event Information: Event information will be sent out by email to all registered swimmers several days prior to race day.
Issues with payment: Direct any issues with the website or online payment to rondi@nyopenwater.org.
Tentative 2020 Event Day Schedule:
7:10 AM:   Shuttle bus pick up at La Marina for swimmers and paddlers driving to the event and parking at the finish.
8:00 AM:    Swimmer and bag check-in opens
9:00 AM:    Swimmer check-in closes
9:00 AM:   Bag check closes
9:05 AM:   Swimmer safety briefing
9:15 AM:   Swimmers line up
9:30 AM:  Wave 1 start at JFK Marina and Park
9:35 AM:  Wave 2 start
9:40 AM:  Wave 3 start
9:45 AM:  Wave 4 start
9:50 AM:  Wave 5 start
11:00 AM: First finishers arrive at La Marina
11:45 AM: Last finishers arrive at La Marina and course closes
12:15 PM: Presentation of awards at La Marina
If you are under 25 years of age, use promo code UNDER25 for a discount!
We're sorry, but all tickets sales have ended because the event is expired.