LAUREN BYRON, 42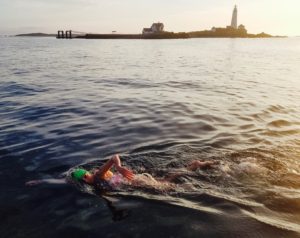 From: Rumson, NJ, USA
Kayaker: Manuela Jessel
Observer: D.H. Choi
Crew: James Byron, Patricia Reilly, Andrew Wallace
Boaters: Mike Murphey
Boat: Six Eights
20 Bridges will be the longest swim thus far for Lauren Byron, who has thus far cut her teeth with the Little Red Lighthouse 10K in the Hudson in 2010, the Swim Miami 10K in April 2014, the 10-mile Kingdom Swim in Vermont in July 2015, the 10K Son of a Swim in Vermont in July 2017, the 8-mile Boston Light Swim in August 2017, and the Spuyten Duyvil 10K in the Hudson in Septembers 2016 and 2017.
TREVOR COLMAN, 64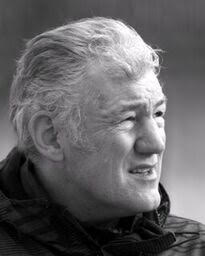 From: South Woodford, Great Britain
Kayaker: TBD
Observer: J.C. Dubois
Crew: Susan Colman
Boaters: Robert Jacobson
Boat: Early Dawn
Trevor Colman started open water swimming in his forties after volunteering for an English Channel relay behing organized by swimming legend Kevin Murphy. He recalls,
"At the time I was a competent swimmer but was not a swimming club member nor an open water swimmer.  That quickly changed, I enjoyed the challenge and after the success of the relay I took up open water swimming as a hobby."
The rest is history. Colman successfully swam the Straits of Gibraltar in 2005, swam across Lake Zurich even with back proglems in 2007, enjoyed a fantastic English Channel relay with his three own children 2008 and soloed the crossing the very next year. His successful swim across the Catalina Channel in 2013 means that he's in the running for a Triple Crown if he makes it around Manhattan. Humbly, he jokes that he hopes to do it "before I get too old and dementia overtakes a sense of adventure."
Oh, pshaw!
CRAIG DUNBAR, 55
From: Midlothian, VA, USA
Kayaker: Terry Lopatosky
Observer: Janine Serell
Crew: Heather Fairbanks, Courtney Moats Paulk
Boaters: John Picinic
Boat: Lucky 7
Swimming around Manhattan will be a first for Craig Dunbar, who will show up with a swimming record that includes the 10-mile Peluso Open Water Swim in October 2014 and September 2016, the 12-mile Swim Around Charleston in South Carolina in September 2015, a custom-circumnavigation of the 12 miles around Key West, Florida guided by Bill Welzein (94-time Key West circumnavigator!) in November 2016, and the 7-mile Swim Around Lido Key in April 2017.
LYN GOLDSMITH, 66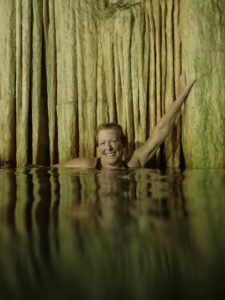 From: New York, NY, USA
Kayaker: Terry O'Malley
Observer: Elena Pavlova
Crew: Abby Fairman, Janet Harris, Jia H. Jung
Boaters: Bill Schulz
Boat: Thunder III
Lyn Goldsmith's first introduction to the open water community was as a paddler. Having paddled in extreme and beautiful landscapes all over the world, she also ended up kayaking for NYC Swim's Manhattan Island Marathon Swim (MIMS) for a good decade.
On Labor Day, 2014, she randomly fell in love with open water swimming after jumping into a lake in Maine while on a paddling trip at the "ripe age" of 63.  She soon became a double threat, a rare instance of an athlete who can paddle as far as she can swim, and vice versa, supporting numerous swimmers while pursuing her own escalating goals in swimming.
Goldsmith's love of swimming has come to the fore in more recent years, spurred on by projects such as this 20 Bridges swim. Her swim goals, in order of importance, are to have fun, finish the swim, and not to finish last (something she calls "a rare but always happy event"). It'll be no different on Saturday, September 8th as she makes her way around the island Manhattan.
MATT GURRY, 36
From: Brooklyn, NY, USA
Kayaker: TBD
Observer: Laura Picardo
Crew: TBD
Boaters: Len Brown
Boat: Ah C'mon
Brooklynite Matt Gurry has spent a lot of time in temperate waters between 68ºF and 76ºF. He enjoyed NYC Swim's Little Red LIghthouse 10K in 2011 and 2013, and did a Manhattan Island relay in 2012.  He's done the 17-mile Rose Pitonof Swim in NYC twice (2012 & 2016) and the Spuyten Duyvil 10K in 2016, and has ventured to other areas of the country for the 10-mile Swim the Suck in Chattanooga, Tennessee (2016) and the 12-mile Swim Around Charleston, South Carolina (2013).
MARK JOHANSEN, 53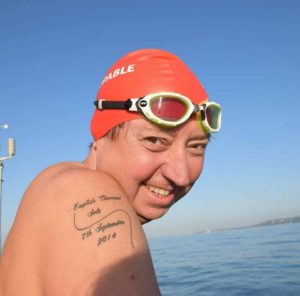 From: Birkhamsted, GREAT BRITAIN
Kayaker: TBD
Observer: Jeanne Zappe
Crew: Louise Hyder-Darlington
Boaters: Carter Craft
Boat: Reel Busy
As Mark Johansen's story goes,
"I was swimming just to keep in reasonable shape through my thirties and forties. In 2011, I met a lady who was swimming 5km every day at my local pool. At this point I was doing one 5km swim (Swimathon charity event) per year and thinking I was doing well. Liz and I became friends and I started to do more longer swims and before long I was regularly doing 20-25km per week and enjoying it more than ever.
I'd always harboured an unrealistic notion that I was probably a decent enough swimmer to consider doing the English Channel but never did anything about it until I met another swimmer who had tried and failed. He encouraged me and told me how to go about it. He also said that if I could do the Channel distance of 21 miles in a week, I would almost certainly be able to do it in a day. So I set about doing just that and did 21 miles in 5 days at my local pool without too much trouble.
So off the back of that, I contacted the CS&PF and booked a pilot to swim the Channel in 2015…to cut a long story short, my training went so well that I decided to fast track my swim. I did my first open water swim in Dover Harbour at 9 degs in April 2014. I was in the water for 15/20 mins twice and had never been so cold – nor have I been since! Four months after that first short, cold swim and a year ahead of schedule, I made it to France in a time of 14 hours 8 mins and my life hasn't been the same since.
Two weeks after my solo I did a relay which had been planned as my intro to the Channel ahead of the solo! The following year (2015), I was asked to join a team of Serpentine Swimming Club members to try and do the first ever butterfly relay across the Channel. We succeeded and set a new Guiness world record. The following year (2016), we attempted to Butterfly Lake Geneva but the weather got the better of us, so we had to swim it conventionally."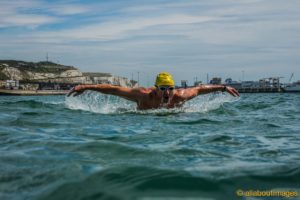 [Here, the writer must interject that the six-member Frequent Flyers swim team did nevertheless raise
23,000 Euros and counting
for Bloodwise, formerly known as Leukaemia and Lymphoma Research]
Then last year (2017), Johansen formed a team that completed the latest ever English Channel swim, crossing on December the 3rd to set another record in water temps of 9-11 deg Celsius (48ºF – 52ºF), completing the swim in just over 13 hours. Johansen had also planned to do the 20 Bridges swim last year, but decided to wait until some personal matters had resolved themselves.
This year, he planned a redemption relay of Lake Geneva in August, which set a new record for the first ever Butterfly relay done in 24 hours and 41 minutes. And this was not before a "straightforward" English Channel relay with friends, swum in 12 hours and 45 minutes on behalf and for the benefit of another swimmer friend who had to give up her slot while undergoing treatment for cancer.
Johansen says,
"I've always loved visiting New York and with my recently discovered passion for open water swimming I couldn't think of a better excuse to visit again. OW swimming is a sport that has given me so much and it doesn't stop giving. I now get as big a kick helping others achieve their swimming goals as I do my own, mentoring and coaching dozens of aspiring Channel and open water swimmers. Every big swim I do, coach, crew for, or witness seems to leave me with a memory that will last forever and I don't think there are many sports that can offer that."
LYNN KUBASEK, 60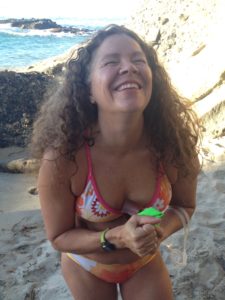 From: Laguna Beach, CA, USA
Kayaker: TBD
Observer: Richard Clifford
Crew: Julie Flanagan, Scott Zornig
Boaters: Steve Negron
Boat: One More Shot
Just in July, Lynne Kubasek was grueling through the famed Cork Distance Week in Ireland, enjoying her first time in Europe in true Open Water Swimmer style. Shortly thereafter, her training group in California – collectively boasting the completion of 3 Catalina crossings, 1 Manhattan circumnavigation, 1 Anacapa crossing, 1 Lake Tahoe crossing, and 1 Gibraltar crossing – was planning a mellow 6 to 7 hour training swim on a summer Saturday!
Kubasek's swim around Manattan island is a part of her "BIG turning-60 celebration!" She had aimed to swim around Manhattan in August, actually, but pushed her date a month forwards since a scare with skin cancer and the resultant graft surgery earlier this year had robbed her of training for the whole month of April.
Having entered her 60s on July 9th (even if Open Water Pedia suggests that she is forever 55), she is happy to report,
"I have three interesting kids, 3 grandkids (and one on the way). I have a great job and awesome swimming friends…and my three-legged rescue cat."
Her daughter will turn 27 on swim day on September 8th,  so Kubasek is determined to sing 'Happy Birthday' from under a bridge along the course (hopefully the iconic Brooklyn). Her jobworking as a Senior Environmental Scientist at a civil engineering firm is truly great – she refers to herself as a Storm Water Specialist ("You know: don't dump, [it all] drains to ocean or river"). She's also on the Board of the Santa Barbara Channel Swimming Association, and adds that she still puts her Fine Arts degree to use by exhibiting on occasion. Having engaged in the art forms of painting, sculpture, printmaking, illustration, and photography, her media of choice nowadays are filtered photography with narrative overtones and metal printing.
She says,
"My career path has not been a path at all but a wild careening roller-coaster through crazy town. I am glad that I have swimming as a kind of spiritual anchor."
Kubasek will arrive to NYC's waters with the Catalina Channel (2009), Anacapa (2011), and even a 10K in the Great Salt Lake of Utah (2014) under her belt. She has been studying historical facts about each bridge so that she can think about them as she swims along.
QING LI, 28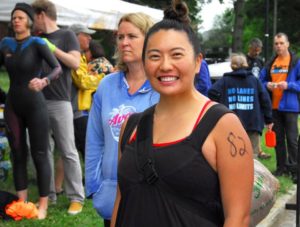 From: Medford, MA, Brooklyn, NY, and Chicago, IL, USA
Kayaker: TBD
Observer: Max Summers
Crew: Jacqueline Broner, Robert Guddahl
Boaters: Ed Dottino
Boat: Together II
[Photo credit: Jozef Koppelman, CIBBOWS Governor's Island 2018]
Qing Li recalls,
"I've been swimming since I was 5 but never dreamt about marathon swimming until a couple of years after receiving the superlative 'Most Likely to Swim the English Channel' in high school.
After hearing about completing the harrowing feat from a fellow college teammate, I was hooked and could not shake the idea from my head. Thus, started my open water career. Noted in my blog at the time, my EC swim (2011) was '16 hours and 48 mins of hell, I LOVED every moment of it!!!'
I definitely feel that swimming through the night, 20 ft waves, thunderstorm, and nausea for close to 17hrs has adequately prepared me mentally to get through anything the Hudson/East/Harlem Rivers has to throw my way."
[Here, she half jokingly asks, "…
Wait, we won't have to swim through those conditions right?? Just checking
…"]
Li mentions that a 6-year hiatus from swimming after the Channel means that she has "come back stronger both mentally and physically." She enhances her swimming experiences with a balance of cross-training activities, which include yoga, mindfulness meditation, and running (she ran her first marathon last year).
She confides,
"Only recently have I finally come to terms with my anxiety/depression/other mental health issues. I come back to marathon swimming for the pure love of the sport and to raise awareness for systemic mental health issues.
Win or lose (finish or not finish?), I am overwhelmed by the plethora of support from the open water swimming community: Nahant Knuckleheads for EC training, GLOW, Point Swimmers, and CIBBOWS for 20 Bridges training, and swimmers from all over the world. This journey has allowed me to meet and train with strong, amazing people who continuously offer a wealth of knowledge, support me in my dreams, challenge me to reach for the next feat, and, most importantly, ALWAYS keep things fun. There's no better feeling than the feeling of love and support from the international open water swimming community."
KEN MIGNOSA, 54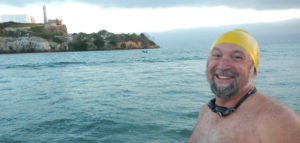 From: Santa Clara, CA, USA
Kayaker: TBD
Observer: Aslihan Dincer
Crew: Cathy Harrington
Boaters: Antonio Chavioni
Boat: Miss Marie
[Photo Captions: 1. Ken after a South End Alcatraz Swim in San Francisco, CA, and 2. Ken resembling a sea otter during his Catalina Swim, accompanied by kayaker Russell Kenny – photograph  taken by Kelley Prebil]
Ken Mignosa's introduction starts off with a bang:
"I'm Ken Mignosa, and I swim hundreds of hours a year in all kinds of conditions and temperatures in the San Francisco Bay out of the South End Rowing Club."
True, even considering that he just got into this madness in early 2017. And it hardly ends there – ever since last year, the vast majority of Mignosa's training swims have been measured in hours, ranging over distances usually 10K or longer. He says,
"Sometimes, I'd get toward the end of my available swim time, and look at my GPS watch, and learn that I'd swum something less than 10K.  When that happened I'd turn around, and swim more to round it off to 10K (or 11K or 12K or ??K).  Sometimes GPS watches can provide too much information…or perhaps the watch wearer can be a little bit nuts."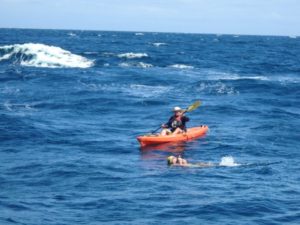 Last year, he swam the length of Lake Tahoe, crossed the Catalina Channel, and did the Anacapa Island (Santa Barbara Channel) swim over a period of about 4 months, snapping up his California Triple Crown of Marathon Swimming. By 2017, he was cruising for other long swims and says,
"The 20 bridges swim looked like fun!  In a change from my previous open water swimming, and other swims I have planned for 2018, this swim offers the opportunity for sights to see all along the way."
This distance fiend will actually be using his trip around Manhattan to shore up for his attempt to circumnavigate Santa Cruz Island from Oxnard, CA in a 40 mile course later this September. Should he succeed, he will be a pioneer of the challenge. When not swimming, Mignosa teaches lifeguarding, as well as CPR/AED and First Aid for both the American Heart Association and the American Red Cross.  He resides in Northern California with his wife, Tammy and 18-year-old son Sean.
GONZALO NADAL, 40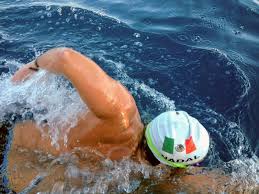 From: Mexico City, MEXICO
Kayaker: Alex Arévalo
Observer: Christopher Johnston
Crew: Guillermo Jacinto De la Mora Lasa
Boaters: Grant Kielczewski
Boat: Sea Hunt
Gonzalo Nadal is humble for a swimmer of his mettle. He muses,
"Sometimes, I wonder why I do open water swimming. I wasn´t a swimmer as a kid or a teenager. I am not a gifted swimmer. I never really thought about it or wanted to get inside a pool and do some laps. I used to play soccer, basketball and run. I loved it. But my knee didn´t.
I had knee surgery when I was 28 and I had to stop running. So, one day, I found a local pool and I still remember how I stepped in front of it, took  a deep breath and thought 'Can´t believe this.'
I only swam to be in shape. No specific training, no competitions in mind. When I was 30 or 31 years old,  a guy from the pool asked me to go to a 1K competition in Las Estacas, a river couple of hours away from Mexico City. After I finished, I thought 'I´ll never do this again.' But I did. I swam short distances  in a beautiful lake in the south of Mexico, in the Caribbean, the Pacific, and so on."
Among his accomplishments are having been on the relay team for a 35K race on two occasions for the prevention of cancer in women offshore La Paz on the Baja Peninsula of Mexico.
The real turning point in Nadal's swim story was when he met his coach, Nora Toledano, an 11-time English Channel swimmer (with one double crossing) and open water swimming hall of famer on her way to completing the Oceans 7 challenge. He met her at his club´s pool. She invited him to train with the local team. Nadal says that ever since that moment,
"...swimming became my part time job. Several meets every year, longer distances, and a fresh slice of confidence that Nora gave me: I can do things that I never thought possible.
I truly believe that open water swimming tests women and men in so many ways, physically and mentally; the hard training, the hunger, the uncertainty of the sea, the long hours outside of our element. But still, there is something poetic about it; the human being alone in nature, fragile, aiming to get to the other shore. Difficult to explain. But in my experience there are a few moments through a long distance swim when I take a glance at the horizon and I truly feel happy."
Last June, Nadal became the first Mexican to swim across the Bonifacio Strait from Sardinia to Corsica. This was also his first experience swimming a channel. When he finished, his question to coach Nora was "What´s next?"
Her answer was: "Manhattan".
Nadal kept thinking about 20 Bridges every day after that, and now here he is.
Back at home in Mexico City, Nadal manage a risk management and security firm and lives with his two dogs- Bika and Rigo, whom he adores. His other loves include cofee, travel, and his city.
ERIN O'LEARY, 37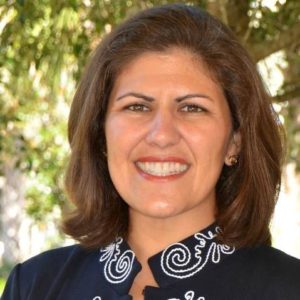 From: Jacksonville, FL, USA
Kayaker: TBD
Observer: Simone Erchov
Crew: Mildred Akers, Page Remillard
Boaters: Al White
Boat: Sparky
Swim adventures to Erin O'Leary's credit include 5 hours and 15 minutes in choppy, 65ºF waters across the Strait of Gibraltar in October 2016, 9 hours for 25K in the Kingdom Swims of Vermont in July 2017, and 16 hours and 44 minutes in wind and 69ºF  water across the Catalina Channel in September 2017. Heading into her Manhattan swim, she says,
"I am looking forward to seeing New York from a new perspective with friends."
SABRINA PERON, 53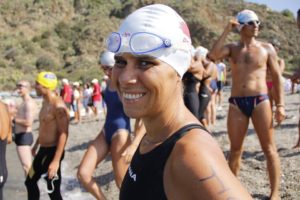 From: Milan, ITALY
Kayaker: TBD
Observer: Liz Morrish
Crew: Riccardo Baarlam, Thomas W. Kofler
Boaters: Dave Lobycz
Boat: Bullseye
Sabrina Peron's swim resume is peppered with comments that show her quirk and modestness. Of her 12-hour Catalina Channel crossing in August 2015, the most important and difficult swim that she has completed to date, she mentions, rather nonchalantly,
"Actually, I'm the first Italian woman who did it. For this reason, and also because two sharks followed me during the swimming), you can find this article."
She's also swum the Bosphorous Strait from Asia to Europe in 2012 and 2013, 30K in Spain's UltraEbre river (August 2013), 18K acaross the Strait of Gibraltar (September 2015, with wetsuit), the iconic 3.3K across the Messina Strait separating Sicily from Italy (August 2016), and 23K from the small Sicilian island of Vulcano to Capo Milazzo in Sicily (September 2016, sans wetsuit).
Last year was particularly eventful for Peron. In June, she swam Lago d'Orta in northern Italy. In July, she pioneered a 20K route between the Sicilian islands of Lampedusa and Lampione in an unofficial event realized with the help of disabled swimmer friend Enrico Giacomin. The purpose of the undertaking was "to develop the positive values of sport also among disabled people." And just last month in July, she traveled to Serbia for the 19K 48th International Sabac Swim Marathon.
When asked why she loves open water swimming, Peron replies,
"I think that it's because it is not 'just swimming,' but a kind of an absolute swimming, in which the swimmer must live the moment here and now, where extreme discipline meets with absolute freedom, and at the end of which [a person] comes out of the water with a better idea of life and of himself (perhaps, sometimes, too optimistic!)"
Peron decided to try swimming around Manhattan because of dear friends who had already done it – one such friend is Thomas W. Kofler, who will be out on the water on swim day as crew.
The swim has been described to Peron as one "full of emotions and positive energy: in short, one of those swims that make you get out of the water with a better idea of yourself and the people around you."
Having visited NYC several times from 1991 through 2012, this will not be her first time in the city. It will, however, be her first time swimming in the city. She laughs,
"Here [in Italy], my friends said that I'm completely insane to swimming in NY's waters: cold water, dirty water, long, long distance, etc., etc…but I think that it will be a great adventure.
She's excited to bring it with her 20-year-old daughter Sara, plus another six Italian friends who she is confident "will support and bear me."
Peron is soon to see and feel firsthand what everyone's been talking about.
EYAL SCHACHNER, 46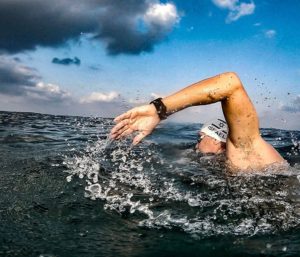 From: Givatayim, ISRAEL
Kayaker: TBD
Observer: Martina Pavlicova
Crew: Dalit Caspi Schachner
Boaters: Ron Hayek
Boat: Hookers
For as long as he can remember, Eyal Schachner has been a swimmer, first focusing on sprints in the pool. Then, after twenty years away from the pool, he returned to swimming in 2009, and fell for open water swimming.
Since then, he has crossed the 21K legendary freshwater Sea of Galilee in June 2010, May 2014, and May 2015.
His first foray into NYC waters was in September 2011 with NYC Swim's famous Little Red Lighthouse 10K in the Hudson. It was after this experience that he promised himself to return to the city and complete the swim around Manhattan.
Schachner and his brother have volunteered organizing swim meets in Israel throughout the years, specifically the annual Millennium meet in their hometown of Kiryat Bialik, an event in honor of their late father, to whom this 20 Bridges swim is also dedicated. His support team will include wife Dalit, with whom he has two children, Amit and Yoav.
KATE STEELS-FRYATT, 48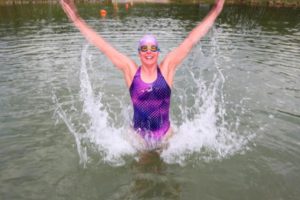 From: Bishops Waltham, GREAT BRITAIN
Kayaker: TBD
Observer: Sharon Gunderson
Crew: Rory Fitzgerald, Robert Steels
Boaters: Robert Rojack
Boat: Midnight Sun
Kate Steels-Fryatt soloed the English Channel in September 2016, after training all year by swimming over 10K at  time in open water at least twice a weeks and embarking on several 6 to 10 hour swims in between.
Her other long hauls in UK waters include the Champion of Champions challenge in Dover Harbour in June 2016 (4th place female), the 22K Hayling Circumnavigation in 2016, a 90K journey around the Isle of Wight in a 4 person relay in 2014, the Solent 10K Charity Swim in 2014, and 15K down the Jurrassic Coast from Burton Bradstock to Lyme Regis in 2014.
In 2014, she completed the famous Sri Chinmoy challenge in Lake Zurich, Switzerland, and was the 2nd place female winner at the Gaston Memorial Swim in Prague's River Elbe in 2017.
P.S. Chair of the International Ice Swimming Association Great Britain, Steels-Fryatt is also a veritable ice swimmer, with six ice miles to her name, including an "Ice Zero" at 33ºF! Brrrrr!!!
MICHAEL TEYS, 56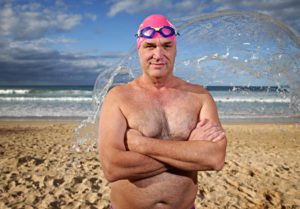 From: Paddington, AUSTRALIA
Kayaker: TBD
Observer: Bonnie Schwarz
Crew: TBD
Boaters: Doug Dougherty
Boat: Juggernaut
[Photo: The swimmer on Manly Beach, Australia. Image Credit: Adam Yip]
Michael Teys is admirably open in stating his deeper reason for engaging in open water swimming:
"I swim to manage by bipolar 2 mental illness. I was 50 when I took up long distance swimming. It gives me everything I need to manage mental illness – exercise, routine, improved diet and sleep , friends, and purpose."
Since discovering the sport, he has logged in a significant amount of time and distance in Australia. He completed the 20K Rottnest Channel Swim in Perth in February 2013 and February 2014, and participated in the 24K Northern Beaches Lifeline Charity Swim last July under the observation of Nicole Piha. His donation page for Lifeline Australia 24/7 suicide prevention counseling organization has raised over 20,000 AUD to date.
After also swimming the English Channel in July 2014 and the Catalina Channel in July 2017, Teys is hoping to earn his Triple Crown with his swim around Manhattan, capping off the last chapter of a book that he is writing about living, and living well, with bipolar disorder.
CHRISTOPHER WILLIS, 46
From: Hampton Bishop, GREAT BRITAIN
Kayaker: TBD
Observer: Julia Toos
Crew: Kevin Mann, Dawn Willis
Boaters: Jim Cassidy
Boat: Four C's
Chris Willis trained with multiple swims ranging from 4 to 9 hours long in the Dover Harbour prior to his successful crossing of the English Channel in August 2011.