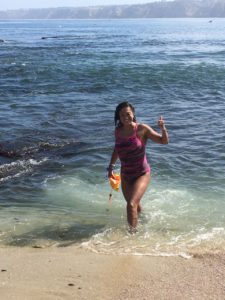 KARINA ALMANZA, 37
From: Mexico City, MEXICO
Kayaker: Rich Lopez
Observer: D. H. Choi
Crew: Christian Almanza, Regina Wiaktor
Boaters: Chuck Mitchell
Boat: Lots of Luck
Karina Almanza is an accountant by profession, a PADI open water instructor, and an open water swimmer with a cause!    
Almanza trained up for this event last year in her native Mexico by swimming distances between 16K and 20K in Alchichica Lake from February through July in 2017 in water temperatures ranging from 57°F to 68°F, hauls of 14K and 18K respectively in In May and June in the 73°F currents of the Las Estacas River. Her longest swim prior to her Triple Crown endeavors was 22K across Guerrero Bay in Acapulco in November 2016, in downright balmy 82°F water.
Almanza embarked upon her pursuit of the Triple Crown in 2017, designating the personal goal as a dream the she would get to live out in her waking life.
Wishing to swim for a worthy cause, she contacted the YMCA in Mexico where she was training, and worked with the organization to launch the Brazadas por La Educación ("Strokes for Education") campaign. Funds generated by Almanza's swims will nourish a project begun 30 years ago to support children in vulnerable situations, providing them with various necessities to continue their elementary studies in the very nice environment at the YMCA's Camohmila Camp.
Almanza is excited for her Manhattan tour, which falls between her successful crossing of the Catalina Channel on August 9th, 2017 and her English Channel swim that take place sometime during the window of September 29th to October 5th after her New York experience.
She says that it's been a wonderful journey each day.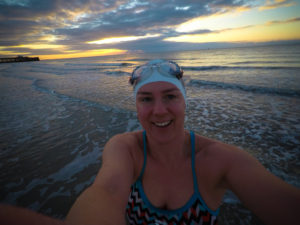 HAYLEY BARNARD, 43
From: Salisbury, GREAT BRITAIN
Kayaker: Terry O'Malley
Observer: J. C. Dubois
Crew: Leigh Barnard
Boaters: Robert Jacobson
Boat: Early Dawn
As a 9 year old British girl, Hayley Barnard  was awed by New York when she once visited with her parents, twin sister, and brothers. She remembers,
"Everything seemed super-sized! I vividly remember taking the Circle Line Cruise around Manhattan; the Colgate Clock being my favourite feature. Later in life when I got in to long-distance swimming (as a successful means of escaping from my iPhone) I knew I wanted to take my own personal sight seeing tour of New York, but from 'in' the water, rather than 'on' the water. I'm so excited that 20 Bridges will make this dream a reality."
Barnard is a relative newcomer to the sport, and 20 Bridges will be her longest event to date after missing her window for a solo swim of the English Channel last year after picking up a nasty bug while training in a tributary of the River Thames near London.
After three years of solid training for an an event of this magnitude (including 16K and 6 hours across Puerto Pollenca Bay to Formentor Bay and back in Mallorca, Spain last April and a  15.2K EC qualifier in Bournemouth, UK with rough and cold conditions last June and , Barnard is looking forward to the Manhattan challenge, and to meeting other swimmers from around the globe. As for the English Channel, a second meeting is scheduled in early October, just five weeks after Manhattan.
JUAN JOSE CASELLES LOPEZ, 37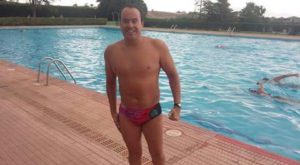 From: Orihuela, SPAIN
Kayaker: Luis Lopez
Observer: Aslihan Dincer
Crew: Noelia Moreno Lucas, Jose Meijas Verdu
Boaters: Barry Davis
Boat: Outrage
Juan José Caselles López was born in Orihuela, Spain on June 24, 1981. At age 13, he began encountering the onset of  a physical disability called hip dysplasia. He says,
"Up to that point, I led a totally normal life like any young man of that age. From there I had to adapt to a new stage and adapt to the new circumstances: walking with the help of a crutch and forget football and tennis, sports with which I practiced regularly."
When Caselles Lopez was 17 years old, his parents bought a house in Torrevieja, very close to the sea. This presented an excellent opportunity to return to athletics via swimming. In the summer of 1998, Caselles Lopez started swimming in the artificial pools of Paseo Juan Aparicio de Torrevieja and in October of that same year, he joined the Valencian Federation of Adapted Sports in Swimming (FESA), where he participated in numerous Championships across Spain, representing the Federation and the Aquarium Club.
Concurrently, Caselles Lopez completed his studies in Social Work at the University of Alicante and obtained employment as a Technician in the Leisure and Sports Section at the (Federation of Associations of People with Physical and Organic Disabilities (COCEMFE) located in the province of Alicante.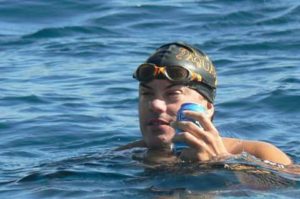 In 2005, he joined the Club Esportiu Aquarium Alacante as a swimmer and later in 2010, after training as an Auxiliary Swimming Trainer for the Royal Spanish Swimming Federation (RFEN), he started as a swimming coach supporting and encouraging sportsmanship in kids with functional disabilities.
In June 2016, after more than 10 years of this devoted work, Caselles Lopez was elected President of the Club. In this role, and as a swimmer repping the Aquarium Club, Caselles Lopez has completed more than 100 swimming trips to the Adapted Swimming Championships in Spain over the past 20 decades. Of these trips, he cherishes particularly the follwing tests in which he was a "finisher" – a term meant to describe swimmers who manage to reach a goal.
June 2015 – Travesía Rotary Mariners, 10K in 2 hrs 38 min
June 2016 – Travesía Tabarca – Alicante, 21K in 6 hrs 14 min
August 2016 – Ultra Ebre Swim Martathon- 31K in 6 hrs 32 min
October 2016 – Villajoyosa – San Juan 20K in 6 hrs 30 min.
June 2017 – Batalla de Rande in Vigo 27K in 7 hrs 56 min.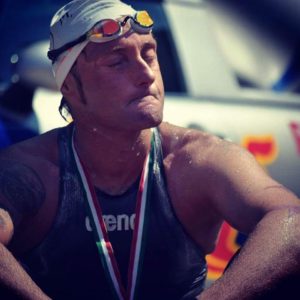 GIUSEPPE D'ALESSANDRO, 43
From: Palermo, ITALY
Kayaker: Valerie Thomas
Observer: Jia H. Jung
Crew: Antonella Chiappone, Andrea D'Alessandro
Boaters: Steve Negron
Boat: One More Shot
Since his Strait of Gibraltar crossing in 2011 with no wetsuit, Giuseppe D'Alessandro has been logging in numersous kilometers throughout the waters of the Mediterranean region. In 2015, he swam 36K with a wetsuit in Capri, Napoli, Italy. Most of his swims, however, have been sans wetsuit, and include 30-32 km Kalamata Koroni (2012 & 2013), 15K Bocche di Bonifacio (2014), 27K in Lake Zurich (2013), 30K in Spain's Rio Ebro (2014), 14K in Lago D'Orta, Italy (2014 & 2015), 21 & 24K Navigli Milano (2015 & 2017, respectively) 27K double Lago D'Orta crossing (2017), and the 25K Minorca marathon also in 2017. He remarks,
"I like to participate in the long marathons swimming especially for know new people who share this passion and see new places. it is also a way to get a challenge with myself. this will be even more beautiful because there will be my son that will follow me."
Accordingly, D'Alessandro's son will serve as a young crew mate on the swimmer's escort boat during the trip around Manhatatn.
SANDRA FRIMERMAN-BERGQUIST, 35
From: Excelsior, MN, USA
Kayaker: David Bergquist
Observer: Diego Lopez
Crew: Lyn Goldsmith
Boaters: Dave Lobycz
Boat: Bulls Eye
Hailing from the Midwest, Sandra Frimerman-Bergquist has specialized in waters far south and west of Manhattan. In 2012, 2014, and 2017, she has done the 10 mile Minnetonka Challenge in Lake Minnetonka, Minnesota. In both 2012, 2013, 2016, and 2017, she made the 27-mile haul down the Red River of the North in Grand Forks, North Dakota, for the notorious END-WET swim. In 2015, she was in the USMS Open Water National Championships 15K in the Morse Reservoir of Noblesville, Indiana. In 2016 and 2017 was the 10 mile Swim the Suck in the Tennessee River in Chattanooga, Tennessee.
And last year, in addition to making her perennial appearance at some of the aforementioned swims, Frimerman-Berquist added on three of the four SCAR lakes (Seguaro, Canyon, and Roosevelt) in April, the 25K Border Buster at the Kingdom Swim in Lake Memphremagog, Vermont in July, and the 12 mile Swim Around Charleston, South Carolina at the beginning of October.
PAUL GEORGESCU, 39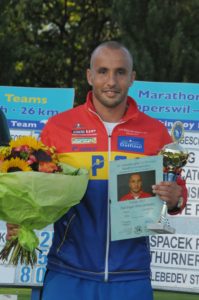 From: Bucharest, ROMANIA
Kayaker: John Russell
Observer: Sharon Gunderson
Crew: Eugen Georgescu, Dimcea Iulian Zamfir
Boaters: Mike Murphey
Boat: Six Eights
Paul Georgescu is in pursuit of the Triple Crown this year after swimming the English Channel in 2016. He was the fastest Romanian to ever complete the crossing, and became an ambassador to his country for the swim.
Last summer, he won the Sri Chinmoy Self-Transcendence swim in Lake Zurich, Switzerland.
This year Georgescu came in 3rd in the Elite category of the 14K Lago d'Orta race in Italy, qualifying for the world final of Oceanman Race which will be held in Dubai in November.
And he just completed the Catalina Channel on August 15th, two days before his 20 Bridges date of August 25th, 2018.
Plotting out how to polish off the Ocean's Seven challenge by 2020 is just one more thing on the list for this ravenous swimmer, who will also tackle the 1000-meter course in the World Championships of Ice Swimming early next year.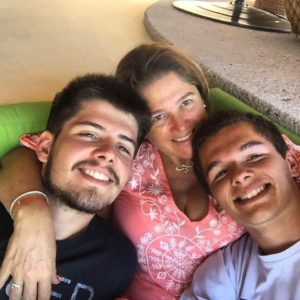 ESTEFANIA "STEFFIE" GOMEZ-COUNAHAN, 47
From: Tizapan, San Angel, MEXICO
Kayaker: Alex Arévalo
Observer: Martina Pavlicova
Crew: Marianela Gomez Counahan, Arturo Villafuerte
Boaters: Tony Tarrabochia
Boat: Bella Vista
Notably, the majority of Estefania "Steffie" Gomez-Counahan's long open water swims have been for the benefit of Por Ellas, Brazadas en pro de la Prevención del Cáncer (translation: Strokes for the Prevention of Cancer in Women) in La Paz in Baja California Sur, Mexico. She swam the 35K course with relay teams in 2012, 2013, 2014, on her own in 2015 and 2016, and again as a relay in 2017. In 2016, she also completed the 14K Los Cabos Open Water Swim.
On a personal level, the tides sweeping her towards the grand lap around Manahattan are best described purely in her own words: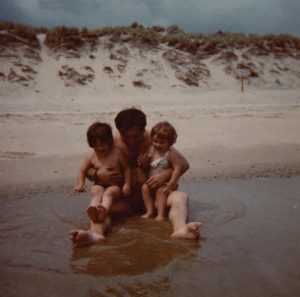 "My first memory of the sea was when I was three years old, sitting on my dad's right leg while my sister was sitting on the left one, laughing at the very small waves breaking under us. I was terrified – I didn't want a single drop of cold water to touch me because I thought it was going to drag me to the deep blue-greyish cold Irish Atlantic Ocean.
My next memory is myself at seven years old  in Barrow Beach, Tralee with my cousin Rosemary and Aunt Betty (who was actually her Aunt, but all the cousins adopted her as ours) having long, relaxing swims.  I always think of her while I swim, and thank her in my very personal prayers, because I am always sure she is watching me, or even perhaps she swims along with me.
I suppose that's when my love for water began, although I was starting to swim  back home in Mexico, always encouraged by my mother who was a great swimmer. I "pool swam" for a good few years, and then completely retired until my children were grown up and they had to learn to swim properly.  
Open water swimming appeared only a few years ago through my friend Lorena who insisted I should give it a try, -and I did-, and here I am, doing what never in my wildest dreams I thought I could do: swim  around Manhattan Island.
I want my sons Esteban and Jose Ignacio to know they can achieve anything they want in their lives, and also thank my partner Arturo, who is always encouraging me and pushing me beyond my limits, he is the one that told me I could swim whatever I wanted to swim."
PHILIP "PHIL" HOYLAND, 52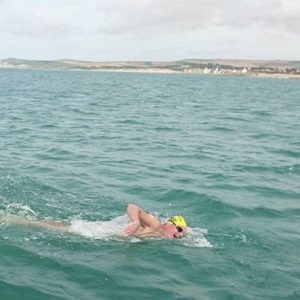 From: Manchester, UNITED KINGDOM
Kayaker: TBD
Observer: Zahava Lipton
Crew: Glynis Craig, Erin Hoyland
Boaters: Robert Rojack
Boat: Midnight Sun
Phil Hoyland is the father of twins , one of whom swims competitively for  the City of Manchester Aquatics team at National level. She'll be crewing for her father during the Manhattan swim. Hoyland quips,
"She owes me one after all the 4 a.m. get ups!"
On land, Hoyland is head teacher (what a principal is the the US) of a school for children with Social/Emotional and Mental Health Difficulties. He ensures that swimming is a part of the students' program all year, he says,
"…as I know it's one of the best ways to relieve stress and anxiety that these children live with."
Hoyland alos chairs the Stretford Amateur Swimming Club and coaches the mini dolphin group whose mambers are taking the first steps towards competitive swimming. Hoyland happily says,
"It's a great family club and we punch well above our weight in terms of our swimmers' achievements. The club is 130 years old this year, and we are holding a series of fun events to celebrate. They're running a sweepstakes on how long it's going to take me to get 'round the island!"
Hoyland's biggest swim to date was his crossing of the English Channel  2 years ago in 62.6°F water to mark his 50th birthday. He found friendship and fun along the way, and notes,
"[The swim] also helped with my mourning for the passing of my father who had suffered with Alziemers for a number of years."
The photo above, which depicts the swimmer giving his all at the end of that challenge, certainly imparts much of what cannot be described in words.
PETER MOSTACCI, 57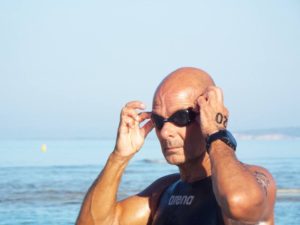 From: Palermo, ITALY
Kayaker: Agnes Michalek
Observer: Thomas Hull
Crew: Bodhan Kavun, Martha Mostacci
Boaters: Len Brown
Boat: Ah C'mon
Just this June, Peter Mostacci swim 40K over a 24 hour period in the UK's One Hundred Percent Swimming event. Last year, he was in the 25K Swim in Menorca Marathon in Spain. In 2015 and 2017, he was in the 24.5 Gran Fondo Dei Navigli of Italy. In 2014, he crossed the Strait of Gibraltar, taking a 22.5K course.
Apropos to his origin, Mostacci has also put in some serious time in Italy, crossing the Lago D'Orta in the 14K Traverlonga Oceanman in 2013, 2014, and 2016, crossing the 18K "Tre Golfi" course in Palermo in 2014 and 2016, corssing the 18K distance fromLevanzo-Favignana by Egadi Island in 2014 and 2016, crossing 15K from Capri to Nerano in 2008, and crossing the Messina Strait in 2008, 2012, and 2017. He mentions having completed many 5K and 10K distances also since 2003, dwelling mostly in waters at a moderate 64.4°F degrees Celsius.
When asked about his thoughts on this passion for open water swimming, he replies,
"What can I say … I was born in an island, Sicily, and the sea is a part of me and my life. I love to swim long distances in the open sea where I can feel alive and in absolute freedom."
He quotes Pablo Neruda to underscore the profundity of his feelings:
'I need the sea .. because it teaches me.'
JOHN MUENZER, 56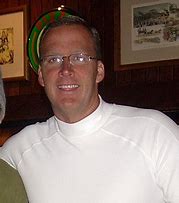 From: Loveland, OH, USA
Kayaker: TBD
Observer: Natasha Desai
Crew: Mike Carson, Ray Muenzer
Boaters: Antonio Chavioni
Boat: Miss Marie
John Muenzer swam under the legendary swim coach Doc Councilman in the summer of 1980. And it was Councilman, who had just become the oldest person to swim the English Channel, who introduced Muenzer to open water swimming.  
In 1984, after finishing four years of college swimming, Muenzer swam 36 miles of Lake Erie from Pointe Pelle, Canada to Cedar Point, Ohio. The 24 hours and 15 minutes that he spent in 1 to 2-foot chop broke the 1957 record set by Swimming Hall of Fame Swimmer, Dr. Harry Briggs. There was no looking back after that.
Muenzer did put his swimming on hold a bit while raising his seven children and building a distribution business.  He returned to his passion in by swimming both a 21.5-mile crossing of the English Channel and 24-mile course across Tampa Bay.  Some 9 years later, he's looking forward to swimming Manhattan's 20 bridges and eventually plunging into the waters of Catalina Island and Loch Ness.
Muenzer currently resides in Cincinnati, Ohio with his wife, son Ray, and youngest daughter Beth. He marvels,
"My other five kids are married and living on their own!!"
He says,
"On the boat will be my best friend Mike Carson.  Mike isn't a swimmer but he went with me to England and hung out with me, my wife Mary, and Ray, my youngest son at the time. He did my feedings and he will be with me doing my feedings around Manhattan. His wife Bobbi will be on land with my wife Mary drinking wine and waiting for the finish!!  Very special to me is my son Ray will be on the boat as well. Ray is now 10 and swims for the Cincinnati Marlins with hopes of someday doing the Triple Crown! Having Ray is more special then I can ever communicate for many reasons. I'm so looking forward to this swim!!!"
ANDY ORTEGA GARCIA, 44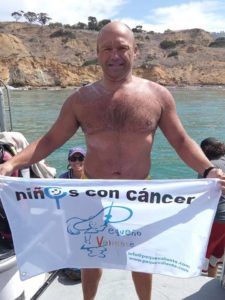 From: Las Palmas de Gran Canaria, SPAIN
Kayaker: Manuela Jessel
Observer: Dana Page
Crew: Elena Quintanilla Ayllon, Sergio Orgega Velazquez
Boaters: Ed Dottino
Boat: Together II
Andy Ortega Garcia started swimming when he was 3 years old. A speedy swimmer from the start, he won medals in 50, 100 crawl and 100 buterffly in championships in Span and beyond. His best time was 52 seconds as the first swimmer in relay.
In 2009, after years of inactivity, Ortega Garcia began to swim again, and started to participate in open water events. Out of his long and impressive list of swims largely carried on in the Canary Islands near home, across Spain, and in and around the channel, he chooses to highlight the following achievements in particular:
Just this past June 15th, 2018 he was the first of the season and the first Canarian ever to cross the Catalina Channel (34.2K).

On August 7th, 2017, he became the first Canarian to cross the English Channel (51.3K)

On July 29th, 2017 he made the first 70K double crossing between the Canary Islands of Tenerife to Gomera.

On May 21st, 2016, he was the first ever to cross 25K between the Canary Islands of Alegranza and La Graciosa.

In October 2016, he embarked on a personal project entitled Desafío Solidario Bimbape (

Bimbape Solidarity Challenge

) and hatched by El Grupo de Recreación Deportiva (GRD) president Santiago Arteaga. The purpose of the endeavor was to raise funding to provide an orthopedic chair for Aitor, a loca child in Frontera affected by cerebral palsy.

In

following through with the challenge, he became the first person ever to swim 100K around El Hierro (another Canary Island), over a course of 32 hours and 59 minutes broken ito four consecutive stages:

October 2nd: del Guincho a las Puntas (28 kms – 9:05 horas)

October 3rd: de las Puntas a La Estaca (26 kms – 8:24 horas)

October 4th: de La Estaca a La Restinga (20 kms – 6:05 horas)

October 5th: del Guincho a La Restinga (26 kms – 8:25 horas)

In September 2015, he was the proclaimed winner of the fourth annual 18K

Travesía a nado Mar de las Calmas

in the Canary Islands

On August 29th, 2015, he swam 31K of the Ebro River of the Spanish mainland. In what was  his longest swim at the time, Ortega Garcia placed 5th overall and 1st veteran.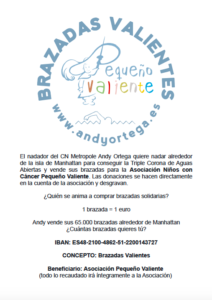 He is staring down the Triple Crown if he makes the loop around Manhattan on August 25th, 2018.
There is more than just athletic ambition propelling Ortega Garcia through all of these feats. He says,
"I have participated in several Charity Challenges to raise funds for sick children and it make me so happy when we get our goal..I have sold all my strokes of the English Channel and also Catalina Channel to help children [in the Canary Islands] who have cancer illness. They have an Association called Pequeño Valiente ("Little Brave One") and my project is called Brazadas Valientes ("Brave Strokes"). I always collaborate with them. They are interested in raising funds, but also in becoming known all over the world. Each of my strokes was sold for 1€ and also I will sell my 20 Bridges strokes for the children."
If you are interested in finding out more and sending a little love to the children of the Canaries by purchasing a stroke, you can do so by plunging into the swimmer's official Facebook page as well as the Pequeño Valiente website.
KIMBERLY "KIM" PLEWA, 35
From: Rahway, NJ, USA
Kayaker: Lizzy Tabor
Observer: Erica Flickinger, Christ Johnston
Crew: Jennifer Bauman, Susan Kirk
Boaters: Bill Schultz
Boat: Thunder III
Kimberly "Kim" Plewa began open water swimming as a teenager ("Almost 20 years ago!" the young lady playfully exclaims). She started off with weekend ocean mile swims along the Jersey Shore. She recalls,
"Swimming an ocean mile was always a "big event" for me and I loved being in the salt water and spending the day at the beach. The feeling of swimming in the open water is something I couldn't find anywhere else."
Her first swim longer than a mile was NYC Swim's Litte Red Lighthouse 10K in 2009, still one of her all-time favorite experiences because of the current assist and fun spirit of the event. From this introduction to New York open water swimming events, Plewa began her journey into the world of bona fide marathon swimming.
Her journey has brought her all around, from her resident New Jersey (9.11-mile Lake Hopatcong Memorial Swim, September 2016) to Maryland (9 mile Ocean Games, July 2015) to Florida (7 mile Swim Around Lido Key, April 2017) to Tennessee (10.3 mile Swim the Suck in Chattanooga, October 2017), and right back full circle to New York (10K Lake George Open Water Swim, August 2017 and 10.5-mile Finger Lakes Open Water Swim Festival in Seneca Lake, September 2017).
By now, her longest swim to date is the 30K 3 Rivers Marathon Swim (3RMS) in August 2016, during which she persisted for ten hours going both with and against the current of three rivers that converge in Pittsburgh, Pennsylvania. A close second was the 18.3-mile first stage of the 8 Bridges Hudson River Swim in June of that same year.
Plewa has been in awe of the Manhattan course ever since she was an observer for the Manhattan Island Marathon Swim in 2009. She says,
"It's such a iconic swim, with so much history, and right in my backyard! It was always a bucket list swim of mine, but historically being held in earlier June, it never seemed within reach for a swimmer that prefers warmer water."
Now that swims occur in windows beyond the month of June, Plewa is thrilled to be able to take part in the swim this year and grateful to NYOW for the opportunity to do so.  
VALERIE TEANY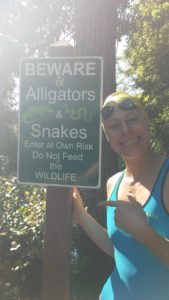 From: East Point, GA, USA
Kayaker: Shawn Lauriat
Observer: Liz Morrish
Crew: Dana Requa
Boaters: Eric VanZanten
Boat: Betty's Boys
Valerie Teany comes to the table with experiences swimming 7 miles with zero current in the Clock is Ticking (TCT7) event in Georgia in September 2015, 36 miles in the monstrous END-WET course in North Dakota in June 2016, 11 miles Dam to Dam – The Great Moose Migration in Idaho in August 2016, and 10 miles in the Chattanooga River in Swim the Suck in Tennessee in October 2015, 2016, and 2017.
CRISPIN THOROLD, 44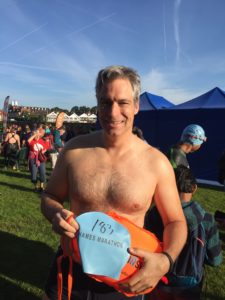 From: Toronto, Ontario, CANADA
Kayaker: Jane Scott
Observer: Qing Li
Crew: Bridgette Janeczko
Boaters: Ron Hayek
Boat: Hookers
Crispin Thorold is a self-proclaimed recovering journalist who is still drawn tol communicating the human experience for the greater good all around the world. He also humbly describes himself as "a mid-life crisis marathon swimmer" who is "average at best," and "has the habit of setting himself crazy goals from a position of complete ignorance."
Yet, just a couple of achievements of this supposedly average man include running the first-ever Communications department for the international terrorism tribunal in the Hague and swimming the English Channel in a 5-person relay in July 2014 and again in a 3-person relay in July 2016.
He says,
"20 Bridges] is the most challenging swim that I have ever attempted. I am excited and [apprehensive in equal measure but am extremely motivated to swim around Manhattan. I travel a lot for work and have trained for this challenge in Abu Dhabi, Russia, the UK, the Netherlands, Canada, and Ireland. I love swimming around islands – and spent hours swimming around Sandycove Island in Cork in July during Cork Distance Week. I expect fewer jellyfish and goats in New York, but am ready for all sorts of surprises in and beside the water! My home training ground is now Toronto, where I live close to Lake Ontario."
Just last August, he completed the 14K Thames Marathon without a wetsuit.
Apropos to his background of living and working throughout the Middle East, Southeast Asia, London, and Northern Ireland, reporting for 20+ countries on four continents throughout five international conflicts, Thorold's crew will be super international. On his boat will be his friend and colleague Jane Scott, who paddled for the swimmer during his 14K solo Rottnest Channel Swim in February 2016.  The kayaker is flying in all the way from Perth, Western Australia to accompany Thorold once more.
The icing on the cake is that Thorold's 45th birthday falls a couple of days after the swim date. Thorod says,
"I am hoping for a good result to get the best birthday present ever!"
Considering that he got here after starting open water swimming in his late thirites as preparation for the forties and beyond, he seems right on track for these wishes to come true.
The day will be all the more special if he can raise awareness and support for Secondary 1st, a charity established in the memory of his dear from Rosie Choueka, who succumbed to secondary breast cancer at age 38 in 2015, leaving behind her husband, two young children, and a haunting blog of perserverance called Fighting Genghis that went viral in the UK and beyond among tens of thousands of world citizens.
Those interested may donate here.
GRAHAM WALTON, 45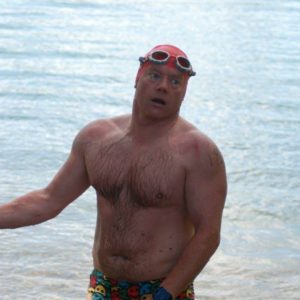 From: Consett, UK
Kayaker: TBD
Observer: Richard Clifford
Crew: Tony Rutter, Nathan Walton
Boaters: Doug Dougherty
Boat: Juggernaut
Graham Walton says that the 20 Bridges swim has been in the back of his head since he first heard about it a few years ago. He was seeking another focus after his successful English Channel solo crossing in August 2016, and the swim around Manhattan Island stood out as an interesting challenge. He decided to throw his name in the hat, with an eye upon maybe earning the Triple Crown at some point in the future.
Walton started open water swimming eight 8 years ago. He says,
"…at that time, a one-mile event in a wetsuit seemed like an endurance event."
But he kept pushing, and through the sport, met and surrounded himself with great friends who encourage and push each other always further. The distances swum started to increase. Walton reclalls,
"…and then as we were looking for more events we became aware that losing the wetsuit would open up more opportunities."
Since the pivotal ditching of the wetsuits, he and his open water swimming friends have participated in winter swimming events and even swum through a few harsh winters in the North Sea. His Channel swim was inspired when a friend completed the crossing in 2014. This same friend will be Walton's crew around Manhattan island.  
Back home in the UK, the majority of Walton's training swims take place in the picturesque Lake District, with the length of Windermere a favourite test. Looking forward to Manhattan, Walton says,
"Getting involved in this sport has been one of my best decisions."