CARLOS ACOSTA, 45
From: Mexico City, MEXICO
Kayaker: Alex Arévalo
Observer: Dongho Choi
Crew: Rodrigo Alegre
Boaters: Barry Davis
Boat: Outrage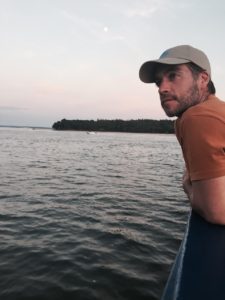 Swimmer, architect, and Studioroca co-founder Carlos Acosta of Mexico City is planning to circumnavigate Manhattan on his 45th birthday. He says,
"…it is very thrilling that if I succeed, I'll be conquering the Triple Crown of Open Water Swimming precisely on my 45th birthday! Our swimming group usually celebrates each others' birthday by swimming 100m times
the age. 20 bridges is about 46k so I'll be swimming almost 1 kilometer per year, that's 10 times the usual celebration!"
There's another big reason to celebrate. Before he was a swimmer, Acosta was a smoker. He started at age 14, and carried on for 20 years, continuing even after enrolling in swimming school in 2009. He recalls incredulously,
"I used to think I was a healthy person -even when I smoked a pack a day- because I exercised occasionally. It's stunning how we can trick our minds! …when I started swimming I managed one or two laps before I had to stop, gasping for air."
But he stuck with it because, for once, he'd found a sport that he really liked. And so his swimming improved even as he still couldn't quite  muster "the nerve or need" to confess his habit to his fellow swimmers. After about a year of this, the trainer recruited Acosta to sign up for a local competition that would be his first swim race ever.
As go-time came around, the competitor-to-be started to think about health on a whole other level. He quit smoking cold turkey a few days before the race, buoyed by a "mix of nerves and expectations." He came away from the experience with a bronze medal in his hand and a promise to himself: to quit smoking.  He kept this promise.
Several years of smoke-free life later, he rejoices,
"…I really did it! I can say that swimming made me quit. It is the best thing I've done in my life! It changed me."

With the hurdle of nicotine addiction behind him, Acosta signed up for a sprint Triathlon in spring 2013. He says,
"I loved it! The nerves of a new challenge, the effort, the camaraderie and competition at the same time… I liked it all. Right then I believed I could do much more than I ever thought possible and proved it to myself. That same year I registered to other races, triathlons and a marathon and kept looking for more. Eventually I decided that swimming was my favorite sport of the 3 and decided to follow it… Long story short, I fell off the bike on a ride and during the 4 months treatment I read a lot about swimming and about the English Channel. Reading in awe of people who had swum it popped a question in my mind: 'Could I do that?' Not much later, I decided that I wanted to do it. I had no idea what it would take nor where it would take me…  and here I am, less than two years later, attempting to conquer the Triple Crown of Open Water Swimming."
As Acosta splashes jubilantly into the water at Pier A on Saturday, July 14th, 2018 with the 11K Reto Acapulco (11/08/2014), 25K Swim Across the Sound (7/25/2015, 14K Los Cabos Open Water Challenge (4/30/2016), 16.7K Eldora Lake Colorado (8/8/2016), English Channel (9/7/2018), and Catalina Channel (10/30/2017) in his wake, he firmly believes,
"All challenges are worth the effort and no matter what the goal: trying to quit smoking or training for a personal challenge, it can become a threshold in one's life. Everyone's goal is the most important thing to fight for." He adds that such efforts are all the more incredible when shared with the wonderful people who "walk it with you" and are found along the journey.

Those thirsty for more of Acosta's inspiring eloquence can test their Spanish skills while savoring his blog at www.carlosacosta.mx  
He humbly warns,
"I haven't written much in the last year but I hope someone finds it interesting."
Well, the man has been busy swimming, guided by trainer Nora Toledano, a world class, swimmer who Acosta is now friends with in and out of swimming! Stay tuned.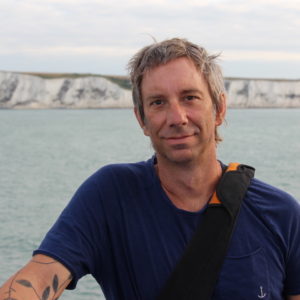 MAX BEER, 45
From: Vienna, AUSTRIA
Kayaker: Arik Thormalsen
Observers: Patrick McKnight, Jaimie Monahan
Crew: Richard Bayerl
Boaters: Tony Tarrabochi
Boat: Bella Vista
Max Beer has swum all around his native Austria (19K crossing of Lake Attersee in July 2014, 33K double crossing of Lake Wörthersee in July 2015, and 23.5K double crossing of Lake Weissensee in June 2016) as well as in Switzerland (26.4KM in Lake Zurich in August 2014 and 11.5K across the width of Lake Constance in September 2014), and in the UK (20K of a two-way attempt at Windmere in August 2015, Jersey2France in September 
2016, and Round Jersey in August 2017).
After using the Cork Distance Week in Ireland in 2016 and 2017 to qualify for his ultimately successful English Channel crossing in August 2016, Beer is primed for the island Manhattan, the second station along his journey to the Triple Crown. His Catalina slot is already booked for August, just weeks after his 20 Bridges swim.
He distinguishes his Manhattan goal from his array of international swimming achievements:
"Manhattan is special for me. When I first heard about this swim I knew I´d have to do this one day but had no swim-resumé at all. So initially I signed up for the English Channel just to have better chances to enter the Manhattan swim. And it worked…"
That's a way to get it done! Signficantly, Beer  was part of a 4-person relay of the circumnavigation in 2014, back when it was called the Manhattan Island Marathon Swim (MIMS) run by NYC Swim. He had a great experience then, and is amped for his solo attempt.
Beer's swimming videos can be viewed at:  https://vimeo.com/myswims
ABIGAIL BERGMAN, 22

From: Culver City, CA, USA
Kayaker: Agnes Michalek
Observer: JC Dubois
Crew: Kim Bierwert, Natalie Bergman
Boaters: Steve Negron
Boat: One More Shot
Abby Bergman is a graduate of Smith College in Northampton, Massachusetts, where she studied Neuroscience and Exercise & Sports studies. In the fall, she will begin the Masters Program in the Social Sciences at the University of Chicago, with a focus on social psychology.
Bergman grew up swimming in Culver City, California and works as an ocean lifeguard for the City of Los Angeles in the summers. Legit!
Bergman swam the Catalina Channel in July 2016 and the English Channel in August 2017. Next up is Manhattan for the Triple Crown. She is grateful to GoGoSqueez for supporting her swims, and blogs about her passion for open water swimming at openwaterabby.com.
JUDITH "JUDY" CAVES, 57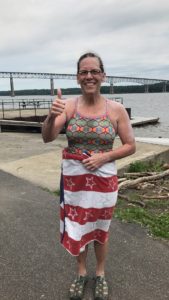 From: Pittsburgh, PA, USA
Kayaker: Shawn Lauriat
Observer: Janine Serell
Crew: Norman Caves
Boaters: Dave Lobycz
Boat: Bullseye
Judy Caves was *just* a pool swimmer until about 10 years ago, when she heard about a 2 mile open water swim just north of her city of Pittsburgh.  She went for it, and was instantly hooked. Her transition to open water made all the more sense because she had always been better suited to distance swimming instead of sprinting.
Each year after her debut open water swim, Caves searched for an open water event that required her to go a little farther than the last. This led her to try the Great Chesapeake Bay swim thrice before making the leap to the 12.5 mile Swim Around Key West in June 2016, and the 12 mile Swim Around Charleston in September 2016.  It was at the SAC that Caves met the "ever-friendly" Janine Serell, who told her all about NYOW and encouraged her to sample a stage of the 8 Bridges Hudson River Swim.  
And so it was that, last June, Caves successfully completed the 18.3 mile Stage 1 of the 8 Bridges Swim down the Mighty Hudson…and so it is that her quest for something "just a little longer" has brought her to attempt 20 Bridges on July 14th.
She says,
"I enjoy the challenge of seeing just how far I can go…I have been inspired by the greats of the sport, namely, Darren Miller.  His courage, his kindness and his charity inspire me to push on. I feel fortunate to know him.
I love the commraderie of the sport.  Open water swimmers are so supportive of each other.  I find that, unlike other sports, not many people can get their head around what it means to be a marathon open water swimmer unless they are one themselves.  I think that is why the bond is so tight.
I love the challenge of the marathon, but, I also love the journey it takes me to get there – the endless hours in the pool, the dry land work out, the learning about proper nutrition and the discipline to keep going, all of it, I am passionate about it."
EDUARDO COLLAZOS, 47
From: Corpac, San Isidro, PERU
Kayaker: Valerie Thomas
Observer: Sharon Gunderson
Crew: Daniel Collazos, Rocio Gomez
Boaters: Robert Rojack
Boat: Midnight Sun
Hailing from the city of San Isidro in the less oft-represented locale of Peru, Collazos has cut his teeth with consecutive partiipation in the 22K Travesia Olaya in 2012, 2013, 2014, 2015, and 2016 in water ranging from 66.2 through 69.8 degrees Fahrenheit, getting it done in 4:41:22 at best in 2016 and a respectable 5:38:30 at the slowest in 2013. In 2014, he swam the Gibraltar Strait in a zippy 4 hours and 36 minutes, and is looking forward to the Manhattan challenge.
EUGENE "GINO" HANRAHAN, 50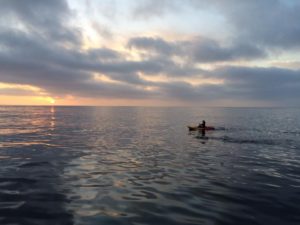 From: Santa Monica, CA, USA
Kayaker: Noah Diary
Observer: Elias Falcon
Crew: Elizabeth Hanrahan, Michael Hanrahan
Boaters: Chuck Mitchell
Boat: Lots of Luck
Gino Hanrahan, pictured in the foreground at sunrise – "a most welcome and beautiful sight" – during his successful Catalina Channel swim in August 2016, is magnetized to 20 Bridges because he was born in New York City.
"I knew that I would do it at some point," was the thought he had as he started swimming longer and longer distances, pocketed a couple of marathon swims (not least of which was his successful English Channel crossing in August 2007), and met people who had swum solo around Manhattan.
The best expression of Hanrahan's feelings towards this sport are the following words from JFK's speech at the America's Cup banquet:
We are tied to the ocean. And when we go back to the sea — whether it is to sail [or swim] or to watch it — we are going back from whence we came.
The most powerful way Hanrahan has found to tie himself to the ocean is through marathon swimming. And this bond is reeling him in for a Triple Crown if he gets around the Big Apple.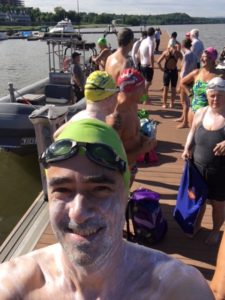 ANDREAS "ANDI" KAUBISCH, 53
From: New York, NY, USA
Kayaker: Terry Lopatosky
Observer: Richard Clifford
Crew: Helen Chang, David Wallman
Boaters: Al White
Boat: Sparky
Andi Kaubisch modestly states,
"I am an adult onset swimmer, I started open water swimming when my brother shamed me into doing the Alcatraz swim in San Francisco a number of years ago. I have been pretty much hooked since. I mostly swim for T-shirts; I am too slow to ever make it onto any podium. I am quite unsure I will be able to complete 20 Bridges, but I am more than excited to try."
Kaubisch shed his wetsuit after the 2006 Sharkfest in San Francisco Bay and 10.6K Nordseeschwimmen in the North Sea offshore Germany in 2009. Since then, he has participated multiple times in the 5K Aquarium Swim put on by Coney Island Brighton Beach Open Water Swimmers (CIBBOWS), as well as the 10K Little Red Lighthouse Swim – that beloved "gateway" marathon swim for so many of us – when NYC Swim was still in operation.
In June 2016, he did the 5.5 mile Maggie Fischer Cross Bay swim and the Spuyten Duyvil 10K and Breezy Point swims in September of the same year.
He says,
"I am very happy to have stumbled into the open water swimming community – so many lovely people with great dedication to the sport. I hope to contribute by volunteering for events whenever I can. It is such a thrill to have such a vibrant open water group in the middle of this crazy metropolis."
During his summers, Andi enjoys swimming with the lovely people of CIBBOWS in the medicinal waters off Coney Island. He took the group photo of the swimmers of the first 20 Bridges swim this season! He trains with Bearcat Masters in the off season.
When not dwelling happily in open water with open water swimmers, Kaubisch works as an oncologist at Montefiore Medical Center, caring for patients suffering from gastrointestinal cancers.
SUSAN KIRK, 58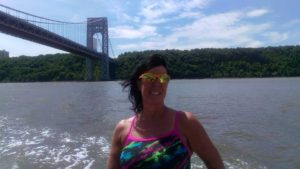 From: Califon, NJ, USA
Kayaker: Lizzy Tabor
Observer: Valerie Storfer
Crew: Sarah Clark, Lyn Goldsmith
Boaters: Mike Murphey
Boat: Six Eights
Susan Kirk moved from Indiana to New Jersey 34 years ago with her husband of now nearly 37 years. Together, they have a 24 year old daughter, Marin, and 19 year old son, Braden.
Kirk remembers always enjoying the open water – water skiing, playing in the surf, and so on. But it wasn't until about 20 years ago that she began venturing into open water swimming. Starting with ocean miles down the New Jersey shore along various beach towns throughout the summer, she says,
"I discovered the sheer joy and excitement that I experienced, and learned that I wasn't ready for the swims to end at 1 or 1.5 miles…"
Thus, she began seeking out longer and longer swims in the Northeast, Florida (e.g. 7 mile Swim Around Lido Key, April 2015 & 2017), Tennessee (e.g. 10 mile Swim the Suck, October 2014, 2015, 2016, and 2017), and even Bermuda (e.g. 10K Round the Sound, October 2008 & 2010).
In 2012, Kirk was a part of The Jersey Girls 4 person relay with Sarah Clark, Lynn Ascione, and Mary Guilfoyle. The notoriously powerful and friendly quartet blazed around Manhattan and had an amazing experience!
Says Kirk,
"This ignited a trajectory of open water marathon swims including the Ederle swim in 2013, and completing Stages 6, 4, 1 and 3 of 8 Bridges respectively in 2015-2018."
She is very excited for the opportunity to swim 20 Bridges this year.
CORMAC  MAC CIONNAITH, 45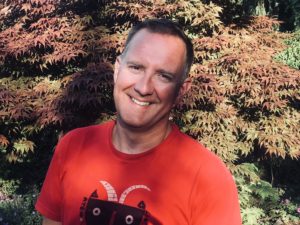 From: Greystones, IRELAND
Kayaker: Liz Fry
Observer: Caroline Block
Crew: Ger Kennedy
Boaters: Patrick Salvato
Boat: Patty Aqua V
Cormac MacCionnaith, who lives about an hour south of Dublin Bay, loves to be in the open water.  Growing up in Greystones on the east coast of 
Ireland where he continues to reside today, he was always near the sea. But it was only within the last decade that he discovered the magic of the open water. Having competed in several triathlons, MacCionnaith ditched his wetsuit in 2009 and began transforming into something of a specialist of cooler waters not exceeding 60 degrees Fahrenheit in temperature.
In 2013, he completed the 17km Irish National Championships in Lough Erne, Ireland and swam from Dún Laoghaire to Greystones (21km).  This year, he swam the 20km from Greystones to Wicklow. He recently participated in Ned Denison's infamous Cork Distance Week in Cork, Ireland.
On the occasion of his 20 Bridges Swim, MacCionnaith is raising funds for the Gavin Glynn Foundation, a local Irish charity that helps families of sick children access potentially live-saving medical treatment outside of Ireland that would otherwise not be open to them. Those wishing to support the organization can visit the fundraising page here.
SIMON OLLIVER, 54
From: Christchurch, NEW ZEALAND
Kayaker: Agnes Simon-Menendez
Observer & Crew: Jia H. Jung
Boaters: Len Brown
Boat: Ah C'mon
Simon Olliver, 54, is a father of two from Christchurch, New Zealand (the other, smaller, southern island of the faraway country).
He was a competitive pool swimmer from an early age but got the bug for open water while swimming with the BLDSA (British Long Distance Swimming Association) during his time living and working in the UK.
While in the UK, Olliver swam Windermere, Coniston, and Torbay lakes three times each. He was mid-training for the English Channel when he had a biking accident and busted his shoulder. Two operations and three years of physical therapy later, he was back in his native New Zealand and back at swimming.
He got used to training mostly in the ocean because "rivers close by are braided, cold, and swift, and the lakes are a good two hours drive away and are only really swimmable two months of the year as they are mostly glacier fed."
His first big time goals were to cross the Cook Strait and the English Channel. Then, he remembers,
"Some swimmers told tall stories of their 20 Bridges swim and so it was added to my (very long) list."
It wasn't long before he set himself up for a Triple Crown by crossing the English Channel in 2015 and Catalina Channel in 2016. Last year, he completed the New Zealand Triple Crown (Cook Strait 2014, Lake Taupo 2015, and the cold and sharky Foveaux Strait 2017), in addition to a successful crossing of the North Channel in 2017.
If Manhattan island grants him passage around its perimeter on July 14th, Simon will become a Triple Crown holder with just three three more swims ahead of him to complete his next goal of polishing off the Oceans Seven!  
Olliver loves enjoying the solitude and peace of being out on the water, though he admits that it is sometimes just as fun to come in from the cold and enjoy hot chocolate and chips (fries) with his fellow swimmers.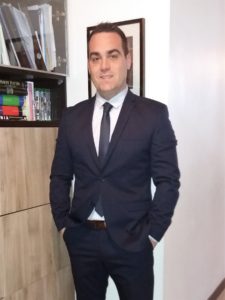 NATHAN PAYAS, 38
From: GIBRALTAR
Kayaker: Manuela Jessel
Observer: Frank Levy
Crew: Ariella Payas, John Anthony Payas
Boaters: Ed Dottino, Tony Chavioni
Boat: Together II, Miss Marie
Nathan Payas is a chartered accountant by profession and works as Senior Manager of Advisory Services at EY in the British Overseas Territory of Gibraltar.
He reveals,
"However, this wasn't always so. I was for many years an operatic tenor. I studied in Bloomington, Indiana University under world famous soprano Virginia Zeani. I then lived and worked as a professional singer in Vienna, Austria and travelled the world performing. I came back to the States to sing on a number of occasions and travelled as far as Japan to perform. I also studied with renown tenor Carlos Bergonzi in Italy during a period of two years."
Wow.
Once he moved back to Gibraltar to raise his children, he found that opportunities to sing operatically in Gibraltar were scarce. That's when he obtained his ACCA accounting qualification, sacrificing much to get it done in two years.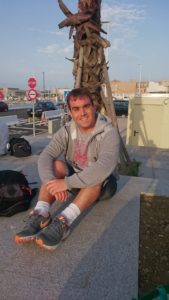 Payas feels that open water swimming has been a gift:
"I have achieved swims unimaginable to me before … it has given me the opportunity to excel once again as singing was no longer there for me. Being constantly immersed in nature and benefitting from the meditative exercise, open water swimming has given me the mindfulness and serenity to enjoy life much more."
Every now and then, Payas continues to engage in his passion for singing and performing and hopes to do so more rigorously if he no longer has to train for big swims anymore ("if that day ever comes," he says).
But this fast fish, who holds a record as the fastest Gibraltar native ever to complete the first leg Round the Rock (2hrs58mins) won't be slowing down any time soon. On his 20 Bridges day, He'll be coming to the table with the English Channel (September 2016, 34km, 9hrs13min), Catalina Channel, Strait of Gibraltar (July 2016, 16.7 km, 3hrs16min), double Strait of Gibraltar (June 27, 37.6km, 9hrs48mins), Round the Rock of Gibraltar (July 2016, 12km, 3hrs20min & August 2016, 12 km, 3hrs7min), and first ever double Round the Rock of Gibraltar (August 2016, 24km, 6hrs33min) to his credit.
Check out numerous recordings of Payas's singing, swimming, and interviews about why he does what he does.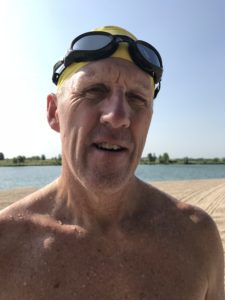 KRISTIAN "KRIS" RUTFORD, 58
From: Lincoln, NE, USA
Kayaker: Mark Whitt
Observer: Page Churchman
Crew: Mary Rutford, Robert Rutford
Boaters: Ron Hayak
Boat: Hookers
Minnesota born Kris Rutford moved to Nebraska in 1971, so it shouldn't be lost on anyone that his place of residence has always been landlocked. Given this context, he reflects,
"My entry into the open water swimming world boils down to two fateful moments. My first happened in 1985 when I was fishing with a college swimmer friend on the day of a marathon. He said something like, 'You know, maybe I will run that next year."  I followed that up with, 'Anybody can run a marathon, why don't you swim the English Channel.' We went on with our day and had no further discussion on the EC. A few days later, he called and said that he couldn't get that out of his mind. As fate would have it, he swam the EC in 1986 with me as his crew.   We the reversed roles and I swam the EC in 1988.
My second fateful moment came when I was in England getting ready for my EC swim. I met Gary Antonick, who told me I should try the swim around Manhattan. After my EC swim on 8/5/1988, I arrived back home and had the same thought that I couldn't get the Manhattan swim out of my mind and 3 weeks later on 8/27/1988 I swam around Manhattan for the first time. I had then realized my passion – swimming around the island. 21 times and 30 years later, I am back again for another attempt."
JUST in case anyone missed that, it bears repeating that the man has swum twenty-one times around Manhattan island over the past three decades, even clockwise one of the times in 1995.
What is left to say when left speechless except to wish Rutford well on his 22nd lap around the city!
WILLIAM SCHULZ. 52
From: Ketchikan, AK, USA
Kayaker: Jeff Folmsbee
Observer: Martina Pavlicova
Crew: Kathy Schulz, Sullivan Schulz
Boaters: Robert Jacobson
Boat: Early Dawn
William Schulz got into open water when he moved to the San Diego area from his native Alaska for work,  His mother had competed before in the famous La Jolla Rough Water Swim and recommended the event to him. He swam the race and it wasn't long before he began swimming regularly with the La Jolla cove swim club.
He says,
"You really begin to find peace in the water and swimming with friends just makes it better.  From there the swims just get longer and colder. Eventually you meet more people from other areas, hear about more swims in great locations."  
When Schulz first got started with this sport, there were only a few swims per summer. Now, there are multiple options per weekend. Moving back home to Alaska actually opened up more opportunities, and at this point, Schulz and his wife have organized the 8.2-mile Pennock Island Challenge for 10 years. He believes that their event has encouraged the development of the Chena River Swim and the Sitka Sound Swim.
Why 20 Bridges? Schulz responds,
"A vacation on the east coast and a swim sounded good."
Not to mention, Schulz aims to cap off his Triple Crown while enjoying this part of the country. After this, he's planning on sticking to southeast Alaska for a couple of years to "refill the swim bank." He remarks enticingly,
"There is some very good water up here and many places that no one has ever swum."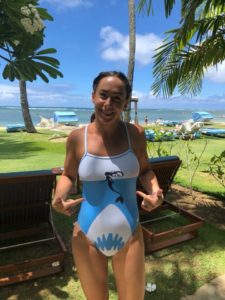 ANNA STRACHAN, 35
From: Brisbane, AUSTRALIA
Kayaker: Terry O'Malley
Observer: Hsi-Ling Chang
Crew: Phoebe Moore, Peter Short
Boaters: Eric VanZanten
Boat: Betty's Boys
Anna Strachan is excited to be joining 20 Bridges from down under.
In June 2016, she swam the English Channel. In October of last year, she circumnavigated Jersey Island. Just a few weeks ago, she completed the Molokai Channel, and is set to swim Catalina just one week after her Manhattan experience.
She surmises,
"…I am unlikely to be the freshest fish in the Hudson, but I will be wearing the widest smile to have been so lucky. Catch you on the start line."
And at the finish, Anna!
DIONNE TATLOW, 32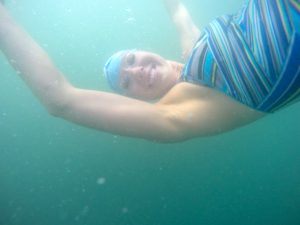 From: La Ronge, CANADA
Kayaker: Borden Miller
Observer: Daria Huxley
Crew: David Farrell
Boaters: Doug Dougherty
Boat: Juggernaut
Dionne Tatlow didn't anticipate becoming an open water swimmer, much less a marathon swimmer.
She began swimming with a masters club eight years ago while in school. After graduation and starting a job, she founder herself in a remote, northern Canadian town that had no pool but did have an incredible lake called Lac La Ronge.
She says,
"I had grown to love swimming so much and couldn't give it up, so lake swimming began out of necessity."
In 2014, someone suggested that Tatlow cross the 45 km wide body of water. She trained up for the goal and achieved it in July 2016. She had loved spending hours in the water and basking in the meditation afforded by long swims. So, she began looking for more personal projects, while also becoming a SwimTrek guide.
What drew Tatlow to the swim around Manhattan? Her honest answer couldn't be better:
"… Kramer. I probably shouldn't admit to it but I liked Seinfeld and thought that episode was hilarious. When I heard about the triple crown and the Manhattan swim I thought that would be a fun one to try!"