KAMIL RESA ALSARAN, 57 & RAGIP VURAL TANDOGAN, 52 [CREW #10]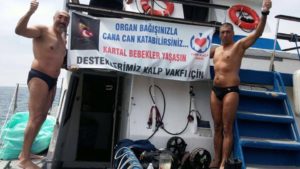 From: Istanbul, TURKEY
Kayaker: Manuela Jessel
Observer: Janet Harris
Crew: Nurhan Alsaran, Selin Doganalp
Boaters: Mike Murphey
Boat: Six Eights
Kamil Resa Alsaran and Ragip Vural Tandogan are traveling to NYC all the way from Istanbul in hopes of tandem swimming their way to a joint Triple Crown. Prior to teaming up, Alsaran crossed the English Channel on two occasions (2012 and 2015) while Tandogan completed the swim in August 2016. That same month, Alsaran and Tandogan made they way together through the Strait of Gibraltar in five hours and change. Last July, the Turkish duo shared the distinction of being the first from their country to cross the Catalina Channel. They are all set up for double the glory of open water swimming's sought after triple feat.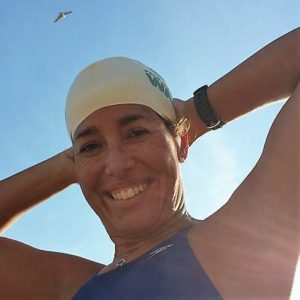 INGRID BON, 48 [CREW #6]
From: Boca Raton, Florida, USA
Kayaker: Lizzy Tabor
Observer: JC Dubois
Crew: Patrick Billingsley, Linda Bostic
Boaters: Ron Hayek
Boat: Hookers
Ingrid Bon hails from Puerto Rico and lives in Florida, where she works for the US Army and trains with Patrick Billingsley of the Palm Beach Masters Wahoo and has swum several regional events such as the Swim Miami 10K in April 2016, the 10.2K Swim Around Fort de Soto in November of the same year, and the Swim the Suck 10K in Tennessee right in between in October.
Despite an enviable proximity to mild waters, Bon favors the Atlantic Ocean and Chesapeake Bay – where she enjoyed the Potomac 10K in September 2016 – when the water is cold.  She has found cooler swims in Arizona on the windy lakes of SCAR (Saguaro, Canyon, and Roosevelt in April 2017) and Vermont's Lake Memphremagog (25K Kingdom Swim Border Buster lin July 2017). She enjoys writing about her experiences in her blog Blue Mermaid, whose banner trumpets this choice advice from Ralph Waldo Emerson:
"Be not the slave of your own past – plunge into the sublime seas, dive deep, and swim far, so you shall come back with new self-respect, with new power, and with an advanced experience that shall explain and overlook the old."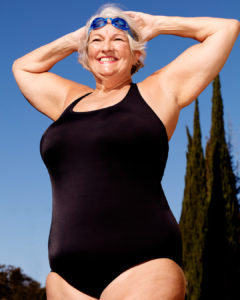 PAT GALLANT-CHARETTE, 67 [CREW #1]
From: Westbrook, Maine, USA
Kayaker: John Russell
Observer: Mary Egan
Crew: Jean Murdoch-Gallant
Boaters: Paul Stone
Boat: All Aboard
Pat is a 67 year old grandmother from Maine who did her first marathon swim at the age of 58.  Since then, she's set six World Records for Oldest Woman for swimming the Catalina Channel at age 60, the Tsugaru Strait in Japan at age 61, the North Channel at age 65, and the English Channel, Molokai Channel, and Lake Ontario at age 66.
She comes to 20 Bridges with six of the Oceans Seven Challenge under her belt (only the Cook Strait in 2019 remains) and with 4 nominations as World Open Water Swimmer Woman of the Year.
Despite her mind blowing achievements, she is a self described "very slow swimmer." Given predictions of weaker currents this year, she surmises that the odds could be stacked against her for a swim around Manhattan. However, she has declined NYOW's offer to defer her swim until 2019 and is going for it this year, hoping that Mother Nature will deliver her full circle to Pier A.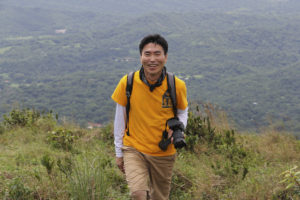 DONGHO "DH" CHOI, 52 [CREW #2]
From: Princeton, New Jersey, USA
Kayaker: Noah Diary
Observer: Laura Picardo
Crew: Kelsey Choi, David Goldberg, Runzhi Zhao
Boaters: Bill Schultz
Boat: Thunder III
When asked point blank about his intentions in taking on big swims, Dongho Choi, fondly known as "DH" in the open water community, says "I'm not sure why I'm doing this…maybe it's just part of my life…"
A profile in the Mary Jacobs Memorial Library Foundation is more revealing, and describes the on-land Choi as "the Asian-American version of the mild-mannered Clark Kent." Indeed, a man who emigrated from South Korea to New Jersey in 1994 and is now the director of IT at L'oreal in Clark, New Jersey he appears to fit the description.
But under the surface and in the water, he is an athlete who taught himself to swim ten years ago by reading Terry Laughlin's Total Immersion. In another nod to literacy, he raised over $2,500 for the Montgomery/Rocky Hill branch of the Somerset County Library system in New Jersey during his attempt to swim around Manhattan last summer. His goal was to increase awareness for the library and buoy the facilities and services of the haven where he used to take his daughter Kelsey and son Nicholas when they were little.
7.5 hours and 22 miles from the start and after clearing the George Washington Bridge, the 20th bridge in the course, Choi was halted by pain and shortness of breath. He returns this year knowing from direct experience and a strong mental game that he will enjoy every stroke in the presence of loving family and friends. To open water swimmers and friends of the library alike, he is already a hometown hero, working year round as a swim instructor at two locations of the Princeton Wellness and Fitness Center, the gym whose pool first inspired him to read a book and get in the water.
PETER DOLNIK, 51 [CREW #9]
From: Žilina, SLOVAKIA
Kayaker: Dave Mitchell
Observer: Adrian Stroie
Crew: Anushka Patel
Boaters: Eric Van Zanten
Boat: Betty's Boys
Peter Dolnik has swum everywhere from Hong Kong (The Clean Half 14.5K, 2011) to Australia (South Head Roughwater 10K, 2011, Rottnest Channel Swim, 2013 & 2015) to Switzerland (Lake Zurich 26.4K Sri ChinmoySelf-Transcendence Marathon Swim, 2012). With the English Channel (2013) and Catalina Channel (2016, #394) in his rearview, he will be keeping his eyes set on the Triple Crown on the horizon as he swims around Manhattan.
SAMUEL VIDAL FERNANDEZ, 35 [CREW #15]
From: Alicante, SPAIN
Kayaker: TBD
Observer: Diego Lopez
Crew: TBD
Boaters: Chuck Mitchell
Boat: Lots of Luck
Sam has a formidable swimming record, and is making his first attempt in a Manhattan circumnavigation.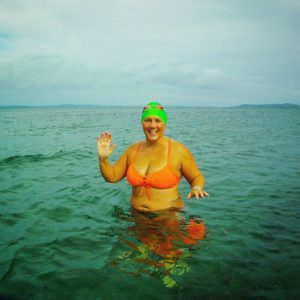 MELISSA KEGLER, 35 [CREW #7]
From: Redmond, Washington, USA
Kayaker: Terry O'Malley
Observer: Andrea Kabisch
Crew: Ben Bigglestone, Paul Raknes
Boaters: Barry Davis
Boat: Outrage
Kegler is drawn to New York in pursuit of her Triple Crown after making it across the Catalina Channel in September 2016 and persisting throughout a 17 hour duration in the English Channel in August 2017. She qualified for her English Channel success with the 14K Mercer Island Marathon Swim in 2016 and practiced with the 18K Puget Sound Swim in July 2016.
She recalls,
"When I first started I didn't know what I could or couldn't do with open water swimming. Everything was new. When the idea of swimming Catalina, England and New York came about, the first thought that came to mind was 'I wonder if I could?' and then that was it, the pursuit of the challenge began!"
A Veterans Affinity Network (VAN) lead for the Bay Area of California and the Northwest Market based out of Seattle, Kegler is using her Manhattan circumnavigation to draw awareness to her fundraiser in support of a cause that she cares deeply about. She will swim in support of One More Wave, a San Diego based 501(c)(3) organization providing wounded and disabled veterans with the customized surfing equipment and assistance necessary to achieve surf therapy for the mind and body.
Aside from her passion for getting veterans back in the water, Kegler is in this crazy thing called open water swimming because she digs the "chance to connect with nature and see a different perspective of our world, a perspective from the water."
She says,
"There's a whole place under the water's surface that's amazing, unknown, scary and inviting all at the same time. It's a place I want to get to know that challenges me to think differently."
[Those wanting to know more about Melissa's endeavor are encouraged to reach out to her directly via the contact page of her blog In the Blue]
PETER LOFQUIST [CREW #11]
From: Mesa, Arizona, USA
Kayaker: Valerie Thomas
Observer: Lauren Byron
Crew: Beth Lofquist
Boaters: Alfred White
Boat: Sparky
A West Coast heavy (California, Arizona, Colorado), Lofquist has ventured to the East side before to do the Boston Light Swim in August 2017, and returns this summer for Manhattan.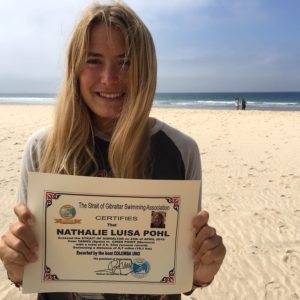 NATHALIE POHL 23 [CREW #12]
From: Giessen, GERMANY
Kayaker: Michael Smalley
Observer: Lyn Goldsmith
Crew: Joshua Neuloh, Andreas Pohl, Adam Walker
Boaters: Ed Dottino
Boat: Together II
According to her inspiring website, the young Nathalie Pohl knew that she wanted to be a swimmer from her first lesson at age 5. It wasn't until she was the ripe old age of 18, however, that a book about a female channel swimmer enticed the German pool competitor towards open waters.
Pohl's debut open water swim was a women's record breaking crossing of Lake Constance in June 2014, all 12K done in 2 hours, 50 minutes, and 24 seconds. Also among her achievements are crossing the Strait of Gibraltar (15 kilometres from Tarifa in Spain to Point Cires in Morocco ) in 2 hours and 53 minutes, breaking a previous world record.
Operating under the slogan "If it doesn't challenge you, it doesn't change you – swim harder," this champ in and out of the pool won't hold anything back in her Manhattan attempt.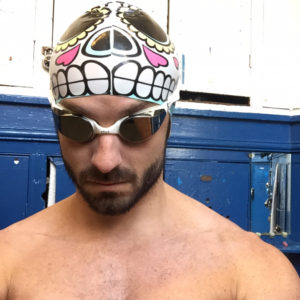 LUCA POZZI, 33 [CREW #14]
From: San Francisco, California, USA
Kayaker: Rich Lopez
Observer: Aslihan Dincer
Crew: Laura Caccianotti, Dionigi Pozzi
Boaters: Len Brown
Boat: Ah C'mon
Luca is a native of Torino, Italy who currently resides in San Francisco. He says he swims because he simply "can't help it."
He says,
"The Water (be it Ocean, Lake or River) has a calling too strong to resist."
Apparently!
Pozzi set the Italian record for the Catalina Channel in September 2017, and is looking forward to his English Channel attempt slated for 2020. With Manhattan in the middle, he is bridging his way to the Triple Crown. His goal for this year alone is to become the first Italian to swim the California Triple Crown. To this end, he will be heading to Lake Tahoe in July and Anacapa in September with the Catalina Channel already crossed off the list .
When not engaged in one of these endeavors, he swims in SF with Nighttrain Swimmers, the Dolphin Club, and the Mighty South End Rowing Clubs. In his spare time, he is a Scientist wielding a PhD in Statistics, as well as a punk rocker.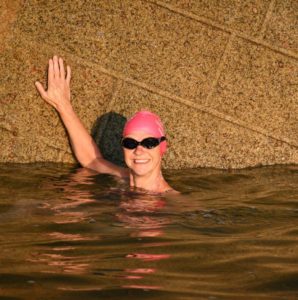 KATE ROBARTS, 56 [CREW #3]
From: Cornwall, UNITED KINGDOM
Kayaker: Agnes Michalek
Observer: Louise Hyder-Darlington
Crew: Steve Robarts
Boaters: Robert Rojack
Boat: Midnight Sun
Kate escaped to open water after getting fed up with sitting at the side of the pool during day long Masters meets, getting hot, dehydrated and impatient. She remembers,
"I got ridiculously nervous, standing on the blocks and I usually came last anyway. I knew there had to be something more fulfilling and less frustrating."
She was hooked after her first mile in a wetsuit in 2008. Eventually, she shed the wetsuit. And the pool?
She says,
"The pool is now only for interval training. I like to be outside."
The photo above depicts the swimmer at the start of her Round Jersey swim last summer. She is excited to go 'round Manhattan. After the English Channel in August 2014 and the Catalina Channel September 2017, the Big Apple is all that stands between her and the Triple Crown!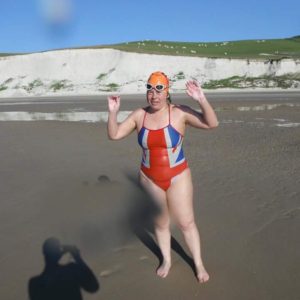 ZOE SADLER, 44 [CREW #5]
From: Basingstroke, UNITED KINGDOM
Kayaker: Shawn Lauriat
Observer: Martina Pavlicova
Crew: Joanne Postins
Boaters: Antonio Chaviano
Boat: Miss Marie
The 20 Bridges season opener is occasioning Sadler's first visit ever to New York!.
Sadler works as an actuary who lives in Basingstroke in the south of England with her husband Mark, son William (17), and daughter Gemma (14). She trains with with the Basingstoke Bluefins swimming club with which her whole family is involved. She quips, "The club doesn't really promote open water swimming, so they look at my antics with amusement."
But Sadler is serious about the sport, having swum the English Channel in July 2012 and experienced both the 1 and 2 way journeys across Lake Windmere.  She is already a qualified stroke judge and starter, and will be taking her referee exams next year. She has observed for CS&PF swims and I have been on the BLDSA committee.  She has a swim blog, too.
Sadler has wanted to swim around Manhattan in particular ever since she had success at the English Channel and got wind about the Triple Crown and "all the other swims that are out there" from the open water swimming community.
Fun fact: when Sadler swam the English Channel, Kate Robarts was on her crew and swam with her at the end. Sadler returned the favor two years later by swimming Robarts to the beach to her channel success.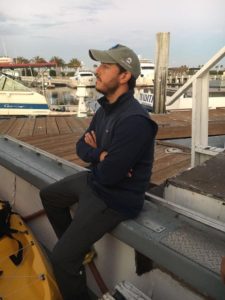 RENE MARTINEZ SAENZ, 36 [CREW #8]
From: Mexico City, MEXICO
Kayaker: Alex Arevalo
Observer: Jia H. Jung
Crew: Jorge Cervera, Josune Mondragon Laresgoiti, Ariadna del Villar,
Boaters: Robert & Dawn Jacobson
Boat: Early Dawn
Rene has swum through a rough start at his ultimately successful  Catalina Channel crossing in August 2017, and both official and unofficial training swims throughout his native Mexico (Los Cabos, Acapulco, points in Cancun, etc.)
Most notably, he participated with swimmers from around the world in the Pan-American Colibri Swim, a cross-border charity swim in the Pacific Ocean that extends from Imperial Beach to the south of San Diego, California and ends up at Playas de Tijuana in Mexico. The swim, conducted last May, benefitted the Colibri Center for Human Rights, an Tucson-based organization that helps families navigate cases of missing persons at the US-Mexico border.
Saenz also collaborates as an associate of Pelagic Life, a Mexico-based NGO dedicated to shark conservation (see the organization's documentary film called México Pelágico!)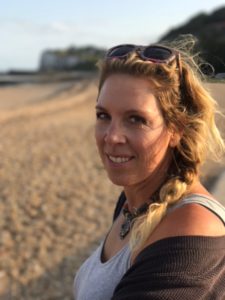 JENNY SMITH, 44 [CREW #4]
From: Chattanooga, TN, USA
Kayaker: Jeff Folmsbee
Observer: Richard Clifford
Crew: Craik Davis, Stephanie Davis
Boaters: Doug Dougherty
Boat: Juggernaut
Smith loves swimming in lakes, rivers, and oceans because of how it makes her feel "part of everything and nothing at all."
Years ago, she first read about swims around Manhattan, and says she feels honored and humbled to now be confronting Trudy Ederle's home waters.  With successes in the Catalina and English Channels, San Francisco Bay, Lake Tahoe, and Swim the Suck, she is well prepared to take on the Island.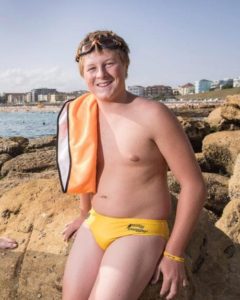 NED WIELAND, 16 [CREW #13]
From: Sydney, AUSTRALIA
Kayaker: Andrew Chernih
Observer: Erika Flickinger
Crew: Mark Wieland
Boaters: Greg Porteus
Boat: Launch 5
Wieland, 16, grew up near Bondi Beach to parents who both work as swim coaches from the Tivoli Swim School in Rose Bay, Sydney. From a young age, he loved swimming, and has surfed for fun and competition with the North Bondi Surf Club. His first open water swim at 9 years of age was at Clovely beach. From there, he continued building community and new open water swimming challenges.
He says,
"I'm not to sure why I am so attracted to Open water swimming but it has to be something along the lines of eating a lot of food and seeing some fish along the way."
A  dream Wieland had harbored since age 12 of one day swimming the English Channel came true last July, rendering him the youngest Australian Male at 16 years and 9 days old to accomplish the feat. Three days later, he jaunted over to San Francisco to swim Alcatraz.
He is using the publicity back home from his English Channel crossing to pick off the Catalina Channel as well, and is going into Manhattan not two weeks after a successful crossing despite water temperatures in the low 60s Fahrenheit and rogue 6 to 7 foot swells classing with prevailing 2 to 3 foot swells coming from the opposite direction.  
Going into his attempt to become the youngest male ever to earn Triple Crown designation, Wieland is reflective, saying,
"I've met so many great swimmers along the way as well as swim coaches.
Swimmers that really inspired me and mentored me such as Lachlan Hinds, Cyril Baldock, Dori Miller, Ben Freeman, Justin Hanby and Dean Summers only to name a few. And the coaches that have really helped include Vlad Mravec, Pip and Mark Wieland (my parents), Lauren Spears, Lawrence Stubbs, Martin Vavrek and Jai Di Tommaso."
Profoundly, he makes it a special point to mention,
"Even though these swims may seem to be all about me they aren't. I have always fundraised for all my big swims. Not that long ago I decided to start fundraising for R U Ok? which is an Australian suicide prevention Charity. I chose this charity because it is very close to my school Waverley College and myself as well as North Bondi Surf club who lost a great club member and friend at a very young age."
He has raised a staggering $43,793.10 so far for R U Ok? but wants to aim ever higher to anyone willing to pitch in for suicide prevention by accessing Ned's fundraising page: https://give.everydayhero.com/au/ned-s-triple-crown-swim-for-ru-ok